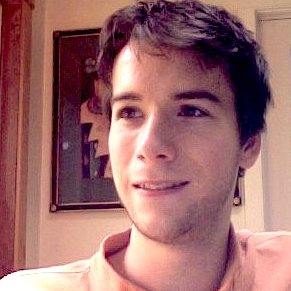 Byron Kittle, Save the Children Intern
Westport, CT
May 14, 2013
Every inch of the Daum
family's lawn and driveway in Larchmont, N.Y., was stacked with a
treasure-trove of clothes, electronics, furniture and books this past Sunday.
At first glance, the tag sale may seem like any other large sale of its kind – well-stocked
and well organized – but the numbers tell a different story, one of commitment
and community.
The family has held the tag
sale every year since 2000, and its proceeds, which were nearing $145,000 as of
Sunday, have all gone to Save the Children. The family tradition stems from a
bat mitzvah donation.
"We first became
involved with Save the Children when my eldest daughter Carly chose to donate
her bat mitzvah gifts to Save the Children's education programming in rural
Appalachia," said Michelle Daum. "Afterward, Carly and my husband Fred traveled
to Appalachia to visit the programs. They were both so moved by that trip and
the work of Save the Children, that my husband suggested we find a way to keep
giving. And the tag sale was born."
Their first tag sale was
held the next year, raising $3,000. And over the years, with the introduction
of fundraising tools like an online donation page and silent auctions on more
expensive items, the proceeds and involvement have gone
up steadily.
This year, donations
from around 800 families helped keep the sale stocked, and the combination of
sales and donations were approaching $20,000 on Sunday, with all proceeds going
to Save the Children's emergency relief programming in the U.S.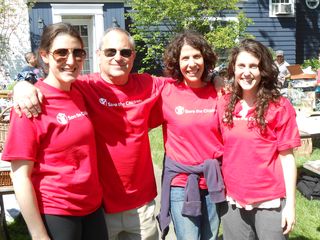 Michelle Daum and her husband Fred, center, with daughters Carly, left, and Justine. Their charitable tag sale has become a community "institution" in Larchmont, N.Y., according to attendees.Photo by Byron Kittle.On Sunday, Michelle Daum
took some time away from being manager of the day's events, to talk about what
makes her family's tag sale such a resounding success year after year. The
recipe for tag sale success, she indicated, is one of good sale items,
community support and a good cause.
"It's completely a
community effort … you see this outpouring of both helpers and buyers," Daum
said. "Everyone loves looking around, and most everyone finds something they
want. Donors like to know that their donated items will be cherished by
others."
The tag sale has a
simple formula – the Larchmont community bands together to accumulate enough
merchandise to draw a crowd, and the shoppers get to save money on an eclectic
assortment of items and support Save the Child at the same time. That doesn't
mean the job is easy by any stretch.
"It's a very difficult
juggling act," Daum said, to "move the merchandise" at bargain prices but also
conduct an effective fundraising effort.
The tag sale also seems
resilient to setbacks and delays, with this year's rain date not putting a dent
in attendance.
"This is the first year
we had a rain date, and yet the turnout has been tremendous," Daum said. "We
had people here helping this morning at 6 o'clock, which I'm so grateful for.
The buyers have clearly come back."
Daum said some people
come from as far away as Hudson, N.Y. (an almost 3 hour drive), to participate
in the sale. One shopper, a woman named Chris, said she's been coming to the
sale since its inception because of Save the Children's mission.
"I'm in education, and
have been for 42 years," she said. "And children are probably the most
important resource we have in the world, so that's why I'm here."
That sentiment was
echoed by a number of other attendees. Betty Comerford is a Larchmont native
who has been helping the Daums and Save the Children for well over a decade.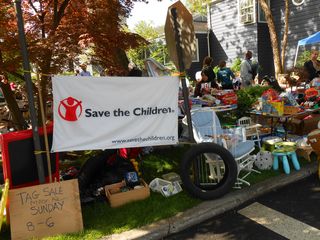 Around 1400 families were asked to donate to the Daum family's annual tag sale in Larchmont, N.Y. This year's proceeds will go to Save the Children's emergency relief programming in the U.S. Photo by Byron Kittle."It's such a great sale
and such a great cause – it really rallies the community," she said. "It's like
an institution in Larchmont now – 'the Daum's Save the Children Sale' – so
people keep coming back year after year because they know it's going to a good
cause."
Another regular is
Jennifer Hayward from White Plains, N.Y.
"I am thrilled to come
here each year because, A, I get great things; and, B, [Save the Children]
really helps," she said. "They're helping kids all over – I got a great price
and I gave a few bucks extra because it's going to a great cause."
One of the sale's first-time
volunteers this year was Gina Cantelmo, who also works for Save the Children.
"It's a well-oiled
machine – the Daum family has this down to a science, and we're thankful that
they have chosen us to be the beneficiaries of this event every year," Cantelmo
said. "I'm so thankful that everyone is willing to give up part of their Mother's
Day to support this worthwhile cause."
And the community plays
a huge part in the sale's success. According to Michelle Daum, around 18
volunteers arrived before dawn on Sunday to help her organize the merchandise
and prepare for the day's activities.
"All the goods you saw
were in boxes and bags on our driveway until 6 a.m. Sunday morning," she said.
"It was a huge community effort to get all that out and displayed."