London, England
Monday, March 14, 2011
This post was written by Yuka, a 27-year-old studying at the Institute of Education in London. She is currently volunteering with Save the Children.
A happy Friday morning turned out to be one of the scariest moments since I came to study in the UK. The news of this massive earthquake in north-eastern Japan shocked me to the core.
Being Japanese, I have to say that we are used to having earthquakes. You will experience at least one earthquake if you stay in Japan for half a year. However, this level of earthquake is something that we have never experienced before.
A number of aftershocks seem to be still occurring even three days after the earthquake happened, which continues to frighten people living in the affected areas.
I didn't know about the earthquake until my colleagues at Save the Children told me on Friday when I came in to work.
My sister lives in the prefecture of Fukushima, the region now threatened by a nuclear fall out and earthquake. I desperately tried for hours, to reach her by mobile but the phone lines were down and I was only able to get a 100 character text message to her by a phone service set up by the Japanese government. My sister had registered my mother as one of her 5 emergency contacts so I received the message that they had found my sister through my mother.
These were very anxious hours for me as I couldn't reach her. My sister who is 25 years old is just recently married and is due to celebrate her one year anniversary this week. She was due to go back to Tokyo in 10 days times.
And she was ok. Very shaken, but ok.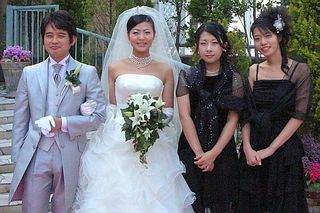 Yuka's brother-in-law, sister, a friend and Yuka on her sister's wedding day. 
And last night I managed to have my first phone conversation with her. She told me that she felt like she was living in a ship since the ground has continued to shake.
My sister lives on the on the second floor of a house that she shares with the landlady. The staircase was separated from the main part of the house by the earthquake, and her parking spot is now on two different levels. Most of her belongings crashed to the floor.
My sister received the emergency alert on her mobile about 10 seconds before the tsunami so she ran to the window and opened it so she would have a clear path of escape and then she hid under the table but the table was moving so she ran and crouched between the sofa and the table while she hid and listened to the radio broadcasts. She said that it currently is very difficult to get food or water because most of shops were either closed or nothing remained even they were open.
The telephone lines have either been too busy or remain down since the earthquake and young people seem to be communicating through Twitter or Facebook in order to confirm each other's safety.
However, children have neither mobile phones nor internet access. Considering that the earthquake happened on Friday afternoon, most children must have been in school and away from their parents. They have must have been so scared to have been away from their parents.I t reminds me of the homework we always had when in primary school marked for September 1st.
September 1st is the Disaster Risk Reduction Prevention Day which was established to mark the Great Kanto Earthquake that took place in 1923.
On that day, emergency drills are organised throughout the country. At school, we also learn how to protect ourselves in case of earthquakes and how to evacuate quickly. At the end of the day, as a part of homework, we are told to decide the "meeting point" with our family members in case all communication means are down.
A friend of mine told me that after the earthquake these words of wisdom were crucial. She met up with her family at the meeting point which as a family they decided on a long time ago.
While Japan is a highly efficient country and we have prepared for the BIG one for many years no one would have been able to withstand the force of this quake and tsunami. I am lucky that my family is ok and my best wishes and solidarity go out to those who have lost their loved ones.
_______________
Learn more about our recovery response to the earthquake in Japan.
Help Us Respond to the Japan Earthquake Recovery. Please Donate Now.