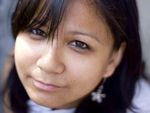 Sanjana Shrestha
Nepal Information Coordinator, Save the Children
Kahtmandu, Nepal

Friday, November 19, 2010
For Sarita, 15, going to the bathroom during school used to bring fears of being bitten by a snake or embarrassment of having people see her going out in the open.
"The surrounding area of the school has poor sanitation," explained Surya Prasad Bhatta, a teacher at Chaudyal Lower Secondary School in Kailali District of Nepal, where Sarita is a student. "The students would usually have to go on the river bank or in the jungle due to lack of toilets. It was difficult for them."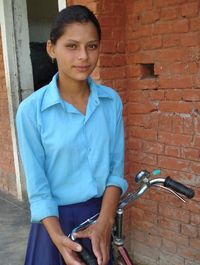 "It used to take a long time to go to the jungle and come back to school," added Sarita.
But two years ago through a Save the Children-supported program the school built four new toilets for boys and four new toilets for girls.
"Things are different now," said Sarita. "We use the toilet, and we don't have to stand in long lines because we have enough of them. There is privacy, and it is less time-consuming."
To keep the restrooms clean, each student contributes two rupees (3 cents) to buy supplies like hand soap, detergent and buckets. (The money also helps restock the school's first-aid kit with medicines.)
The school has set up a daily schedule, assigning each class and the School Health Management Committee to clean the toilets on different days.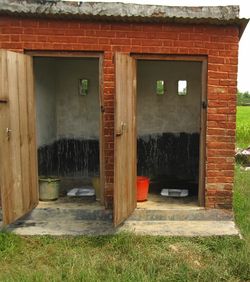 Handwashing Helps Prevent Illnesses

After going to the bathroom at school, children used to crowd around the one hand pump – the only source of water near the school – to wet their hands. "We didn't have soap before," says Sarita.
Save the Children installed two handwashing stations near the new toilets at school. These stations include pumps that you push by hand to get clean water, a large jug with a spout for pouring the water and soap. Students were taught about the importance of washing their hands to prevent bacteria and viruses, which can cause illnesses, and the proper technique for handwashing.
"We learned that we should always wash our hands using soap and water before eating, after using the toilet and after touching human waste with your hands," said Sarita.
Since the handwashing stations were built, Sarita says fewer of her friends are getting sick, especially from diarrhea.
And, her teacher is seeing changes in the community as well as at school. "Students have also developed a habit of washing their hands with soap at home," said Bhatta.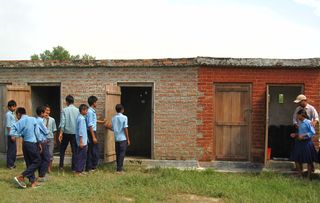 The new restrooms and handwashing stations are part of Save the Children's School Health and Nutrition program that aims to help children stay healthy and stay in school. The program includes providing children with access to safe and child-friendly water, sanitation and hygiene facilities and education. Over the past two years, Save the Children has helped put 355 toilets in schools and preschools in Nepal. And, in 2009 alone, Save the Children installed 489 handwashing stations at Nepali schools.
Santosh Mahato, Save the Children's Nepal Health Programme Coordinator, contributed reporting.