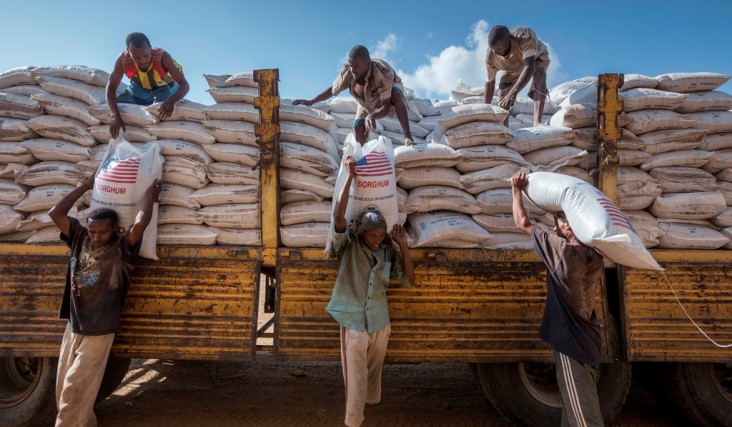 Sorghum bags being dispatched from Jijiga to drought-affected areas in the Somali region of Ethiopia. Photo by: U.S. Embassy Addis Ababa / CC BY-ND
Written by Carolyn Miles, President & CEO, Save the Children | Originally published on Devex.com
Leaked documents reported this week suggest the Trump Administration would like to cut foreign aid by more than 30 percent and possibly merge the U.S. Agency for International Development with the State Department. This proposal comes despite the fact that we are facing the worst humanitarian crisis since World War II—there are more people fleeing war and persecution than ever in history—and famine conditions are threatening parts of the Middle East and Africa.
I've recently heard some critics say that foreign aid does not work. This could not be farther from the truth. Dollar-for-dollar, it is one of the most effective uses of our taxes. One penny of every dollar in the total U.S. budget goes to helping families in other countries—a small investment that saves lives and helps millions of people every year. Strong U.S. leadership during the last 25 years has helped cut extreme poverty in half and led to half as many children dying around the world from preventable illnesses like malaria, diarrhea and pneumonia. We need to build on this progress rather than allow it to lapse.
America currently spends nearly 50 percent less on foreign assistance, as a percentage of gross domestic product, than during the Reagan administration. Further reducing this budget would hinder the U.S. government's ability to help respond to disasters – natural and man-made – including those that know no borders, like the recent Ebola and Zika outbreaks. Being prepared to respond quickly to the next disease is just as critical for U.S. citizens as it is for those at the epicenter of the outbreak.
Countless times, I've seen firsthand how U.S. foreign assistance works and saves lives. I recently visited Jordan, a country that is committed to welcoming families fleeing violence and persecution in neighboring countries. More than 650,000 Syrian refugees, half of them under the age of 18, are now in Jordan, and the U.S. provides significant foreign aid for refugee programs in the country. That support feeds young refugee children, offers children the chance to get back into school after years of being away from home and provides vocational training for Syrian youth to give them hope for a productive future. This U.S. funding is essential if we are to avoid a lost generation of young people who can eventually help put their country on a better path.
In addition, today nearly 20 million people in Somalia, Nigeria, Yemen, and South Sudan face the threat of starvation, and famine has already been declared in South Sudan. Save the Children is on the ground working with partners, including USAID, to provide lifesaving water, food and treatment to these children and families whose lives depend on our help. U.S. foreign aid is critical for preventing and addressing famine, yet proposed budget cuts would eliminate funding for the Famine Early Warning System Network (FEWS NET) that helps us prevent and respond faster and more efficiently to famine conditions around the globe.
Preparing for drought before its worst effects take hold is on average three times more cost-effective than emergency response, as illustrated by studies in Ethiopia and Kenya. Pair this with the World Bank study that calculated disaster risk reduction saves $4-7 for every $1 invested, and it's clear that our foreign aid investments are not only the right thing to do from a humanitarian perspective but also from a fiscal perspective. To put it simply: an ounce of prevention is worth a pound of cure.
Promoting health, education, gender equality and economic opportunities for communities around the world leads to more stable societies, which are critical to our national interests. A group of more than 120 retired generals and admirals agree and sent a letter to Congress in February stating, "The military will lead the fight against terrorism on the battlefield, but it needs strong civilian partners in the battle against the drivers of extremism – lack of opportunity, insecurity, injustice, and hopelessness."
The international affairs budget is a triple win: it helps U.S. economic and national interests, it helps people prosper, and it saves lives. These proposed budget cuts and the folding of USAID into the State Department would deeply hurt America and our neighbors. We all need to do our part by telling our members of Congress that this funding is critical to our wellbeing.