Tracy Geoghegan, Save the Children Staff
Moore, Oklahoma
May 23, 2013
I've been here
since the day after the monster tornado devastated many parts of this city. Hundreds
of families are homeless and thousands are in need. I've been visiting the
shelters talking with parents and children who have lost everything.
"I feel like I just
came out of a daze and realized I'm homeless," a mom named Kristi told me.
The tornado collapsed the roof to Kristi's apartment building, and then it
poured the next day. Her family has lost everything. "So many things go
through your mind. You reach for a toothbrush and you don't have it. You reach
for a comb and you don't have it. You think, how am I going to pay the bills?
How am I going to get mail? There's nothing left."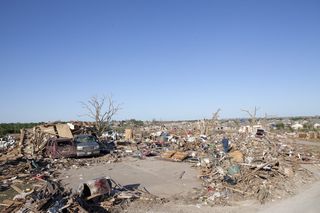 Oklahoma Tornado Photo Credit: Justin Clemons/Getty Images for Save the Children
Kristi's 3-year-old
daughter Peyten misses her stuffed rabbit. "I wish I could go home," she
said.
"She doesn't have
anything to play with," says her mom.
Peyten's 13-year-old brother
Jhaunel likes to play video games and go outside and play basketball. He can't do
those things now because he lost his games and he doesn't have a ball.
People here
are amazingly strong and positive despite all they've been through. I've seen
countless families whose homes were destroyed and who are facing futures full
of uncertainty. They say they're just grateful to be alive. They don't cry.
They rarely complain. But one thing I hear repeatedly from parents is that
their kids don't have enough to do – they need activities to keep them busy and
active.
The Save the
Children team here has responded to every major disaster since Hurricane Katrina.
Most recently we have been helping families affected by Hurricane Sandy and the
horrific massacre at Sandy Hook Elementary School in Connecticut. Our experts
know that what children need most after their lives have been upended is a
return to normalcy.
Today we'll
set up our first "child-friendly space" in a shelter here. This will be an
oasis of calm and fun activities for the children. It'll also give overstressed
parents a break so they can start putting their lives back together. Our staff
will use play activities to help the children heal their emotional wounds. When
children have been through a traumatic experience, we know it's very important to
give them a way to express what's inside them. It may be fear. It may be anger.
Every child is different, but they all need to play and laugh again in a safe
environment. This will be an important first step for the children of Moore,
and we are eager to provide this for every child in Moore who needs help on the
road to recovery.
Please support our work to help children and the community impacted by the tornado. Click here to donate online or text TWISTER to 20222 to donate $10 to help the response effort. Standard rates apply.
Msg and Data Rates May Apply. A one-time donation of $10.00 will be
added to your mobile phone bill or deducted from your prepaid balance.
All donations must be authorized by the account holder. All charges are
billed by and payable to your mobile service provider. Service is
available on most carriers. Donations are collected for the benefit of
Save the Children by the Mobile Giving Foundation and subject to the
terms found at www.hmgf.org/t.
Messaging and Data Rates May Apply. You can unsubscribe at any time by
texting STOP to short code 20222; text HELP to 20222 for help.