Geof Giacomini, Save the Children, Egypt Country Director
Cairo, Egypt

Geof reports from Cairo on the impact of unrest on children in Egypt and Libya. Geof plays a key role in providing relief for refugee children and their families fleeing from unrest in neighboring Libya. Save the Children is mounting relief efforts in the wake of a violent uprising against embattled Libyan leader, Muammar Qaddafi.
When I returned to the Middle East in the midst of the Egyptian revolution, I never would have suspected that Libya would soon follow. Now, the Libyan turmoil and violence is getting worse.Thousands of families have been forced to flee the country for fear of their lives.
The UN reports that thousands of people have sought refuge here in Egypt. Countless others have arrived in Tunisia. Libyan refugees have no where to go but to countries still struggling with unrest themselves.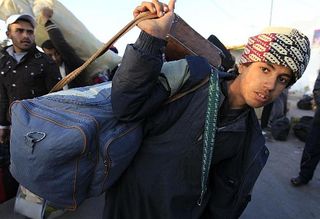 An Egyptian boy who fled Libya, walks across the border before being transported to a nearby Tunisian army camp.
Credit REUTERS/Zohra Bensemra
In response to the unrest and emerging refugee crisis, our emergency relief teams have been working tirelessly. Our US logistics expert and aid program director arrived safely at the border. We take very strict security measures and stock the vehicles with provisions and emergency communications equipment such as satellite phones.
Our team continues to support children caught in the violence andendeavours to meet their needs. We want to make sure that children caught up in this crisis are cared for and protected.
Boys and girls in these situations also face serious risks to their health and safety. Children can often get lost in the chaos. If they get separated from their families, they may go hungry or get hurt easily without parents to protect them. They are vulnerable to emotional distress from being uprooted from their homes, schools and all that is familiar to them.
So far, needs center around the basics – food, shelter and health care. We will be partnering with the humanitarian community on these essentials. We will also be working to reunite families and providing support for children who have been exposed to trauma.
More to come from the field as things unfold. We could really use some extra help right about now.
_______________
Get more news about Save the Children and unrest in the Middle East and North Africa