Edwin Horca, Save the Children
Tacloban, Philippines
November 14, 2013
Desperation is the only word I have to describe the scenes I witness in Tacloban. I was originally born in Tacloban and went back there as part of Save the Children's emergency response team. It was hard for me to go back to my home town knowing there had been a disaster and what made it worse is that I may have lost relatives and have no information on their whereabouts.
The situation in Tacloban is desperate. Children and their families affected by the world's largest storm on Friday morning have now gone five days without sufficient food and water as well as adequate shelter and medical supplies.
Desperation triggered looting as people go into survival mode. It is now rampant, and could compromise the movement of relief supplies and the safety of aid workers. Around the city, children have been asked to join the looting movement.
I saw children huddled over their few remaining possessions. Others just stare blankly ahead, their eyes telling a story of horror and hopelessness. Resilient as they are, the situation is becoming increasingly overwhelming for a population with no respite.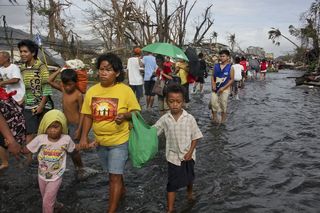 Save the Children has been on the ground since Friday; and over the past six days it has been extremely challenging to reach affected children and their families. We are beginning some children's activities to allow children to play with one another and just be children again. But the mobilization of bulky relief items remains a core problem.
Desperate to look for alternative routes, I travelled more than 60 miles yesterday but roads are only accessible by motorbikes and on foot. The area is still strewn with electrical posts, trees and other debris and need to be cleared urgently if we are to deliver relief goods to the hundreds of thousands that need it desperately. Local officials are scrambling to support this relief effort, but many are also working round the clock in these extremely harsh conditions.
Yet the world has not come to grips with the sheer magnitude of this disaster. Aid efforts are now focused on small but heavily populated areas and we still have a long way to go. The needs are also great in inland areas that we have not been able to reach, and in the coming days Save the Children will be working to ensure that children affected in the storm receive the support that they need.
Donate to the Typhoon Haiyan's Children Relief Fund