President Preval of Haiti visits Save the Children's Medical Clinic and meets the staff.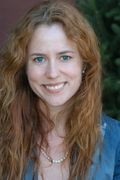 Kathryn Bolles, Save the Children's director, emergency health and nutrition 
Petionville Club Camp, Medical Clinic

Port-au-Prince, Haiti

April 10, 2010
This morning, the first population movement left Petionville Club and relocated to Corail. Of the original 200 planned for the first day, only approximately 60 families made it out. Tomorrow, 800 persons are scheduled to move in scheduled convoys starting at 7.30 am.>
A group of us went to the  Petionville Club camp to observe the registration and protection activities, and saw a line of approximately 250-300 people waiting at the registration table–they had chosen the Corail option.
Our protection staff left at 6 am this morning to set up two Child Friendly Spaces tents a bit down from the reception area (they were the nicest and most welcoming tents in the place), and our health and nutrition clinics staff set up two tents for the medical clinic at the reception area.
President Preval arrived unexpectedly and shortly after the first buses, at approximately 3 pm. He walked around the camp with the Petionville Camp leader, Pastor St-Cyr, and came to our medical clinic.
A group photo is at right with Dr. Frantz Codio (our clinic team leader on the left), President Preval (middle), and Pastor St Cyr (right).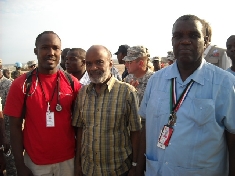 The Pastor told President Preval that Save the Children has been providing  medical care to the people in Petionville Club since the first earthquake struck on Jan. 12, and that we work all day, 6 days a week. President Preval thanked our team for our good work and asked us to please continue.
Pictured below are the medical team including me. We're ready and waiting for the people to arrive.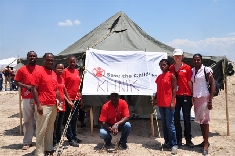 The area is desolate, incredibly hot, and like a desert with dust blowing all around. UN bulldozers were working, 2 water bladders were filled and a few latrines were set up.
Reception area tents were very well-organized and color-coded, and large-font instructions in Creole informed arrivees on how to find the medical tent, and that each family will have help setting up their personal tents and will receive food and a hygiene kit.
I'm sure this scene will look much different in 5 days.
Learn more about our emergency response to the earthquake in Haiti.
Help Us Respond to the Haiti Earthquake Emergency. Please Donate Now.
YOU CAN DONATE $10 TO THE HAITI EARTHQUAKE RELIEF FUND BY TEXTING "SAVE" to 20222 (US Only). Standard message rates  apply.