Areba Panni, Advisor-Strategic Communications,
MCHIP/Save the Children
Dhaka, Bangladesh
March 28, 2013
Bangladesh is a low-income nation in South Asia and one of
the most densely populated countries in the world.  Despite this, maternal mortality rates have decreased
by 40 percent since 2001 and the country is on track to achieve the Millennium
Development Goals (MDGs) on reducing maternal and child deaths by 2015. In fact, only eight other countries out of
the 74 that account for most of the maternal and child deaths can claim this
achievement. Maternal deaths remain concentrated in Sub-Saharan Africa and
South Asia, an indication of global disparities in women's access to much
needed care during pregnancy, delivery, and the postpartum period as well as
family planning services.  Bangladesh's
astonishing progress in the health sector can be credited in part to the
government and communities working together at the district level to deliver
lifesaving assistance to mothers and babies in need.
An innovative safe motherhood project "MaMoni," meaning
"mother-child," has been supporting health systems coordination and service
delivery in fifteen sub-districts of rural Bangladesh since 2009.  Funded by the U.S. Agency for International
Development (USAID), the MaMoni project is run by Save the Children in
Bangladesh and two local NGOs, Shimantik and FIVDB, in partnership with Bangladesh's
Ministry of Health and Family Welfare. The project aims to integrate household, community, and governmental
efforts to achieve improved health outcomes from the district level down to the
grassroots.  
As part of its reform agenda called "USAID Forward," USAID is
focused on delivering results in an efficient and sustainable way, by building
the capacity of country governments and by providing more funds to country
governments directly. In Bangladesh, USAID
is boosting the capacity of the government to deliver health services to rural
areas. The agency has aligned its approach
with the government's health sector strategy and for the first time is
investing $40 million over five years in the Bangladesh government through the
World Bank's "Single Donor Trust Fund" to support health care and other
sectors.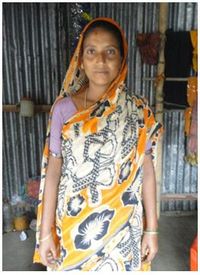 The investment by the
United States and other donors to improve the government's health service
delivery systems is making a big difference for women facing birth
emergencies. Last year, Mariam Begum,
who was living in a small village, was experiencing pain and heavy bleeding
following the birth of her child. A
local community volunteer, trained by MaMoni staff to recognize severe
conditions like Mariam's, helped arrange her transport by a water ambulance to the
nearest government-owned health center where she was further evaluated. When the health center was unable to deal
with the severity of her condition, she was transferred to the district
hospital.  Mariam's life was saved due to
the quick assessment of her condition by a community volunteer and the linkages
between the community and government health workers. 
In addition to facilitating
delivery of emergency services, MaMoni focuses on institution building and
community engagement and will assist the management of 11,000 community clinics
set up by the government in the country to roll out trainings for community
health care providers. MaMoni trains
government health workers to offer women pre- and post- pregnancy counseling,
birth assistance, vaccinations, and counseling on exclusive breastfeeding.
A network of more than 13,000 community volunteers set up and
trained by MaMoni respond to the needs of mothers and newborns, spot cases that
require treatment in health facilities, and help organize local health planning
meetings. The community volunteers collect health information from the
community and meet with frontline government health workers at the end of every
month to update registers. Large wall charts in the government's family welfare
centers track where pregnant women live, their due dates, and whether they are
experiencing complications that should be monitored.   MaMoni staff are in regular dialogue with
the government to help improve their information systems and service delivery.
Based on these best practices from MaMoni, USAID is working
with other districts to introduce health systems strengthening projects. USAID's ultimate goal is to demonstrate a
successful model and enable the government of Bangladesh to take it to scale throughout
the country.
USAID's investments in
government capacity building help to ensure the long-term sustainability of
health programming in Bangladesh beyond the life of MaMoni and other
projects.   With these investments, survival
rates of at-risk mothers like Mariam increase and the coordination between
communities and the government improves the quality of and the access to women's
health services throughout Bangladesh.