Riel Andaluz, Philippines sponsorship manager
Manila, Philippines
Friday, August 17, 2012
Rosalie is 10 years old and lives in Pateros, a neighborhood
in Metro Manila. She is the third of five children.   
 On Tuesday night, Rosalie's home began to fill with water as
rain from a northern typhoon coupled with a southwest monsoon to swamp the
city, unleashing a devastating flood.
"It was raining all night, all day and all night again. The
water was up to here." She holds her hand up to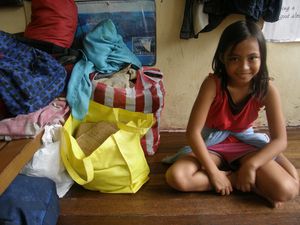 her waist. "We put chairs
together in the middle of the room and slept on them. When I woke up, the water
was up to here." She raises her arm up to her shoulder. "We took some of our
things and left our house. It was so hard to walk. My feet felt heavy in the
water."
Since then, Rosalie and her family have been living in a
classroom on the second floor of her elementary school, which has been turned
into an evacuation center. The already small classroom is broken up into seven
smaller sleeping areas.
"It's hard to sleep," Rosalie confesses. "It's hot during
the day and very cold at night. There are only a few toilets downstairs. You
have to stand in line and usually it's a long line. Sometimes, I get pushed out
of the way by bigger children."
The toilets are temporary portolets that stand in the
courtyard outside. They are beginning to overflow, the contents spilling out
from underneath into the area where the children play. 
"I miss going to school," Rosalie says sadly, looking around
at the classroom that has become her home. History and geography lessons still
cover the walls and chalkboards. "I like reading Filipino stories in school." She
pauses, "I don't know what has happened to my school materials. I miss my
eraser."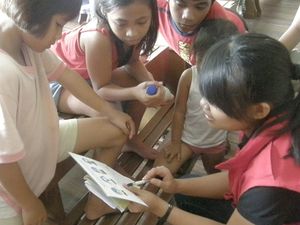 Schools are set to reopen on Monday. However, in order to
open them, local officials must move Rosalie and her family to another
evacuation center nearby. "I hope it's much cleaner than this place," she says.
Yesterday, Save the Children distributed emergency kits to
the families living in this evacuation center, providing them with blankets, sleeping
mats and hygiene materials. Rosalie received something else, too – a letter
from her Save the Children sponsor in the U.S.  
Enclosed with the letter was a jigsaw puzzle. Her eyes light
up and she shows me. "I will share it with my brothers and sisters," she says.
Interested in joining our community of sponsors? Click here to find out more.