Devendra Singh, Save the Children India
Vijaynagar, India
July 1, 2013
Forced separation of
families has taken place in areas where relief has been scarce.
In the village of
Vijaynagar in the Agastyamuni stretch in Rudraprayag district, along the river
Mandakini, I met with the survivors of the havoc that descended in Uttarakhand.
Many of them are finding their way from the upper reaches of the mountains and
the secluded villages and are making their way to safer areas, where their
day-to-day needs can be taken care of and where they can access the aid that
has not been able to reach them.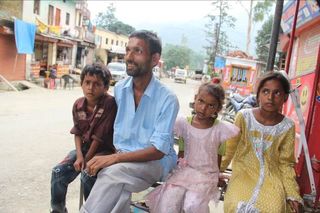 Dhirendra Lal, 42, is
a father who has hitchhiked for about 12 miles from a village called
Chandrapuri with his son and two daughters. His wife has stayed back in the
village with an infant daughter. He was not at home when the disaster struck
since he lives and works in Sonprayag in a hotel. When it became evident that
there was a disaster, he feared the worst and he quickly made his way back to
his village where his family lived as the heavy rains continued to pelt down. A
bridge had been washed away so his trek was longer and more arduous than ever
before. His wife had managed to rescue their four children, as well as their
cow. He is now on his way to Gunou village, which is about 6 miles away to
leave his children with his in-laws who live there.
How has the trauma
affected his family and the children? "The children scream at night," Lal says. 
I ask Ankita, the elder of the two daughters, how she reacted to the floods. "I
ran and ran," she replies in a murmur, "and continued running. It felt as if
the water was chasing me forever." I ask Ankush what he needs most now. "A
home," he replies, "somewhere where I can be safe from floods and stay with my
parents."
Two of Lal's daughters
are in classes 7th and 5th and his son is in 2nd
class. What about their schooling?  When will they resume their studies?
"I don't know," he says. "We have lost everything we had – my priority is to
find a way to rebuild our lives." It will be many months before his three
children are able to go back to school, he fears.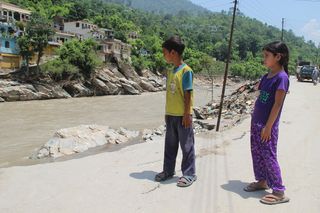 Finally, I ask Lal
about the relief that he has received. "Nothing," he replies. "Nobody has even
come to meet us as yet. We have little to eat and that's why I am dropping
three of my children at our relative's house. When I go back home, I will
reconstruct my home. Hopefully there will still be work for me, since now there
are no pilgrims coming to stay in hotels."
We inform him about a
relief camp that is providing food and other essential items in neighboring
Silli village and he says that he will surely halt there on his way back —
though he does not know how he can carry heavy provisions through the mountains
to where his home was.
The road to his
village will take months to repair but some relief material is now being
carried to such cut-off but relatively close villages on ponies now. The only
fear is that with much of the relief supplies having been hurriedly dumped in
easier to access areas, will relief continue to come, especially when the media
attention dies out in the coming weeks? 
How you can help
Please donate now to the India Floods Children in Crisis Fund to support Save the Children's responses to ongoing and urgent needs as a result of the disaster.