The following blog first appeared on The Huffington Post.
_______________________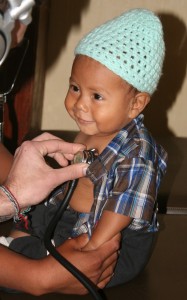 Can the sound of a child's heartbeat inspire the world to save children's lives? Can it inspire you? Children's heartbeats recorded in Malawi and Guatemala inspired the band OneRepublic to write a song with a beat like no other. If "Feel Again" grabs you enough to download it, you can help save children's lives.
The song provides the soundtrack to Save the Children's new Every Beat Matters campaign. The aim is to raise awareness about the millions of children around the world who die needlessly before their 5thbirthday, and what can be done to save them. The timing is right for this campaign launch, and not just because it's Infant Mortality Awareness month. Yesterday, the United Nations released their latest child mortality estimates, which show — for the first time — that child deaths have fallen below 7 million per year. While this figure is still far too high, it reflects the tremendous progress the world has made in reducing preventable child deaths. We can and must now finish the job.