Elizabeth Pulliam, Program Specialist
Kentucky
October 7, 2014
Lightning strikes as an instantaneous thunderclap bursts around your house. You begin to wonder if the batteries in your flashlight are working or if yesterday's grocery purchases will spoil before the power is restored. You see, your child is calm and knows exactly where to find the flashlight. These are behaviors she learned from Save the Children's Prep Rally program– new emergency program that teaches kids basic preparedness skills through interactive activities and games.
Tucked into the heart of Appalachia, Owsley County, Kentucky is a very rural area with disaster risks covering everything from flooding and tornadoes to wildfires and earthquakes. Children are the most vulnerable during disaster, and as a nation, we are underprepared to protect them during emergencies. Twenty-one states lack basic regulations for protecting children in schools and child care and 74 percent of parents don't feel very prepared to protect their kids. The Prep Rally Program was created with the understanding – that we can't prevent disasters from happening, but it's how we prepare for them that will make the difference.
Owsley County community leaders, including school staff, emergency services, first responders and government officials, banded together to plan a Prep Rally that would help children in Owsley Elementary School's Afterschool program be ready to weather any storm.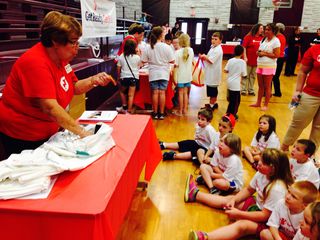 The Prep Rally covers four basic Prep Steps that help build children's resilience: 
Recognizing Risks
Planning Ahead
Gathering Wise Supplies
During Disaster
During after-school programming in the week leading up to their Prep Rally, Owsley students read books about preparedness and survival as part of their literacy lessons. They discussed the risks for natural disasters in their community and learned how to design a safety plan at home and how to reunite with their families should disaster strike.
On the day of the community Prep Rally event, the children kicked things off with a Get Ready Get Safe cheers and the Mayor of Booneville declared it Get Ready Get Safe Emergency Preparedness Day! The mayor also led the Preparedness Pledge, encouraging the children to talk with and make a plan with their families. Then children rotated through five themed stations including the Pillowcase Project, Red Cross coping skills, fire safety, tornado safety and water safety. Children were able to talk with local firefighters and police as well as climb aboard and explore fire truck and emergency medical helicopter.
"The students became more familiar with the types of disasters and how to be better prepared to cope with them," said Phyllis Bowman, Owsley's afterschool program coordinator. "Even though we are a small community with limited resources, the response from our emergency people was great. This is indicative of their support of our children."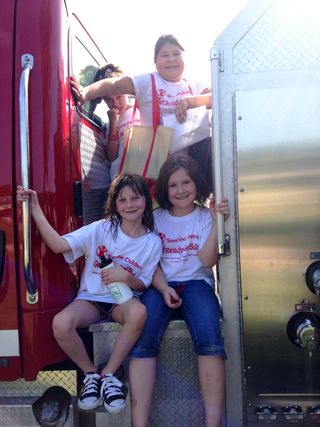 In addition to getting kids pumped to prep, the community Prep Rally created a dialogue between schools to work with emergency services agencies, and government officials about how to best prepare and protect Owsley County.
"The Prep Rally provided the children of Owsley County a valuable educational experience with the emergency services and preparedness personnel in our area," said Bart Patton, Chief of the Booneville-Owsley County Volunteer Fire Department. "It encouraged the children to go home and prepare, along with their parents and guardians, plans to help them through disasters safely. We were all proud to be part of the program."
The Owsley Elementary event is just one example of a successful Prep Rally- which has been implemented in 10 states serving thousands of children and families. The best part of the Prep Rally curriculum is that it can be shaped to fit the specific needs of your community—whether it's a scout troop, afterschool, summer camp, or the beginning of tornado season.
Is Your Community Prepared to Protect Kids in Emergencies?
Get the FREE downloadable Prep Rally Kit: www.savethechildren.org/PrepRally
And register your Community Prep Rally for the chance for Save the Children ambassador Lassie to visit your event!
For more information, email GetReady@savechildren.org