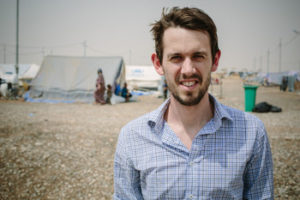 Evan Schuurman is part of Save the Children's emergency response team in Cox's Bazar, Bangladesh.
Nine year old Shawkat* has a bandage wrapped around her head and vacant eyes that suggest her mind and body are worlds apart. I've never seen a child's face look so empty.
Her uncle Ali, who cares for her now—despite her being the eleventh mouth he must feed— says she rarely speaks anymore. That is, until dusk each evening. That's when the terror returns.
"She starts to cry and scream out for her mother," Ali says. "During the day she's ok, but everything changes at nightfall. She feels a lot of pain. She cannot sleep."
I learn that Shawkat's mother, father and three brothers were all killed by the Myanmar military forces. Her entire immediate family wiped out in a few minutes.
Soldiers entered their village in Myanmar's northern Rakhine State and opened fire, setting homes ablaze and killing indiscriminately. In the chaotic scramble for life, people fled into the jungle, including Shawkat. There was no time to take anything or save her family.
It was a brutal, planned massacre, says Ali, whose parents were murdered too.
Thankfully a group of villagers decided to take care of Shawkat. Carrying nothing but the clothes on their backs, they walked for days on end, up and down mountains and through driving rain.
Battered and bruised, they eventually made it to Bangladesh's Cox's Bazar district, which is now home to some 800,000 Rohingya, including over half a million who've arrived in the past seven weeks.
Most have taken refuge in the makeshift settlements less and an hours walk from the Naf River, which divides the two countries. They can still see the hills of Myanmar on the other side.
Ali tells me he searched everywhere for Shawkat, and eventually caught wind that she was in a local hospital. In a time of endless despair, this reunion was a rare joy.
The settlements themselves are a sight to behold. Once lush green hills have been stripped bare. Terraces have been cut into the clay to make space for more bamboo and plastic shelters. When it rains the ground turns into a series of muddy waterfalls, and dirty, contaminated water pools everywhere.
The roads inside the camps are a hive of activity, with large trucks plundering up and down carrying tonnes of aid. Shirtless men run large bundles of bamboo while lone children wander in search of food, money or something to do. Umbrellas are everywhere, protecting people from the harsh sun or heavy rains – it feels as though there's nothing in-between.
This foreign place is Shawkat's home for now, along with more than 300,000 other newly arrived Rohingya children, many of whom spend their days in a similar trauma-induced daze.
Over the past few weeks I have interviewed nearly two-dozen Rohingya women, men and children about what happened in Myanmar and what their lives have become in Bangladesh.
Every single one of them told similar stories of deadly attacks on villages and desperate escapes. The heartbreak is everywhere.
The interviews were raw and emotional. Women wept before my eyes as they recounted their relatives being killed and their homes being turned into a blaze of raging fire.
I've deployed to a lot of humanitarian crises over the past five years including places like South Sudan, Iraq and Afghanistan. But I've never seen anything like this, where so many people – especially children – are so visibly distressed or traumatized.
Dealing with this trauma will form a critical part of the humanitarian response. Already, agencies like Save the Children are running dozens of therapeutic playgroups for younger children known as 'child friendly spaces'.
But what's really needed is education. School isn't just about learning; it provides routine and a sense of normality, a place where children can make friends, play and remember what it's like to be children. It's also a critical form of protection from exploitation and abuse like trafficking.
Yet right now more than 450,000 school-aged Rohingya children aren't going to school.
Ensuring children can access education in emergencies like this saves lives. Seeing the haunted faces of so many traumatised children like Shawkat, I've never been surer of this.