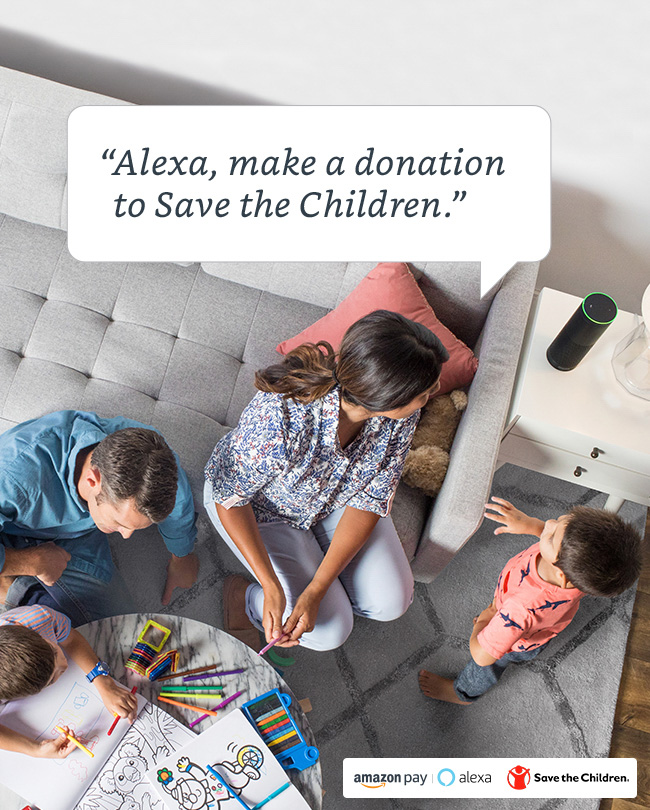 Giving is now as easy as saying "Alexa, donate to Save the Children." We know our supporters like you have busy lives. Now with Alexa and Amazon Pay, it's even quicker and easier for you to make a difference for kids in need.
Thanks to our donors' generosity, Save the Children has a long history of innovation in our work helping the world's most vulnerable girls and boys. This pioneering spirit also inspires us to look for ways we can be more efficient and effective. Because of this, we're thrilled to offer donors an easy way to help children through Amazon Alexa. As voice technology becomes more and more popular, we want to make sure it's as easy as possible for our supporters to help children around the world.
"With Alexa voice donations, you can literally use your voice to help even more children in need by donating to Save the Children," stated Ettore Rossetti, Sr. Advisor of Social Strategy & Digital Innovation.
This isn't the first time we were first-movers in new ways for charitable giving. As an early adopter of PayPal, Bitcoin, G2A Pay Wallet, YouTube donate cards, Facebook donate buttons, Apple Pay and Venmo, we continue to look provide a variety of secure and easy ways you can give to our mission.
When you make a donation on Alexa by using Amazon Pay, the information already stored in your Amazon account is used. No fumbling with credit card numbers or filling our long forms. And, you'll have peace of mind knowing your payment information remains safe and secure.
To donate to Save the Children using Amazon Pay, visit: https://files.savethechildren.org/amazon-pay/