Save the Children and GSK have been global partners since 2013 and have worked together in the U.S. since 2015. Together, our two organizations are helping children, with GSK providing corporate and employee donations to directly aid children. Angie is a GlaxoSmithKline (GSK) employee who, as part of a partnership between Save the Children and GSK, was recently deployed to Las Cruces, New Mexico where Save the Children is running child-friendly spaces in transit shelters for children and families released by U.S. Customs & Border Patrol. Here is her story.
The Beauty of a Community Coming Together at the Border
Written by Angie, GSK
In early August, I was incredibly honored to have been selected for 6-month program that would allow me to take a leave of absence from my full-time job at GSK and work with Save the Children. My specific placement with Save the Children is with the DC-based U.S. Domestic Emergencies team.
This group is responsible for managing and implementing Save the Children's emergency responses – simply put, the team deploys into communities so that families and caregivers can meet the unique needs of affected children. My assignment is to identify and improve the operational efficiencies of the current model so that teams of people can deploy within 24-72 hours after an emergency strikes. Additionally, I also deploy with the team to emergency response sites. Just three short days into my assignment, I was asked to do just that and support Save the Children's efforts at the U.S.-Mexico border. Of course, my answer was yes.
To be honest, I had no idea what I was getting into, but knew that help was needed. On July 19, I landed in El Paso and headed out to Las Cruces to meet a team of incredibly dedicated Save the Children staff and volunteers. Thus began my work at the southern border.
The most common question from my family and friends is, "How are things at the border?" We see things in the media, and the purpose of this story is to give you my answer. Yes, there are stories and things I have seen that will leave a lasting impression and take some time to process and understand. Then there are the stories that we should all hear and embrace.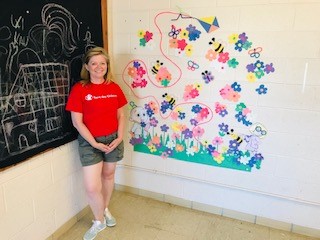 The Save the Children crew on the ground is the epitome of what working with a team should be. They received me with open arms and got me quickly up to speed. We would brief and debrief at the beginning and end of each day and ensured we looked after each other's health, security and well-being. Some of my best memories of deployment were cooking dinner for the team and chatting about our lives and everything in between, or travelling to a destination playing trivia and discovering new songs to listen to. We laughed and helped each other out on our tough days by simply listening to each other.
We had many tasks, but the most important was to set up child-friendly play spaces in two shelter locations for children of families transiting onto their next destination after clearing detention. We did this every day and welcomed kids and parents open arms. The thing is, based on my time in New Mexico, our work is a brief moment in someone else's story. A child's story. A child's life. The children come into our child-friendly spaces and in the matter of a few seconds, they feel safe. They feel like they are children again. They just want to play and be kids. We created gardens, undersea magical kingdoms, and made it snow in the heat of a New Mexico summer using our imagination and some art supplies. We played soccer, football and endless games of Jenga. Every day, I saw new faces and smiles, and heard the laughter of children who had faced harrowing journeys. Despite different languages, we found a way to communicate, and more importantly, connect.
I met a mom and her daughter who traveled for days with little or no food to get to the border. Upon reaching our space, the mom finally got to breathe and relax with her 2-year-old daughter. This beautiful mama sat in a rocking chair with a blissful smile on her face, while I played with her precocious daughter. She smiled, knowing she was about to give birth to her second child. She smiled, despite being separated from her husband and not knowing when she might see him again. She smiled, moving into an uncertain future with a relative she had not seen in 6 years.
I met another family who were waiting at the transit shelter for another family member to pick them up. That family member dropped everything and hopped into a car to drive 15 hours to pick up his sister and nephew. While they were waiting, the son very sweetly took care of his mom and all of the little ones around him. He played games, read to kids and colored. There was a kindness and curiosity about him that was infectious. We spent the latter part of the day looking at a map so he could understand where he came from and where he was heading. His curiosity shone brightly and by the end of the afternoon, a large group of us were standing around the map telling our stories. There were at least four different languages among us and yet we all understood.
After three weeks in the field, I now have an answer for those who ask about what's happening at the border. I have met people with the courage, vulnerability and compassion to place humanity and common decency at the core of everything they do. I have seen the beauty of a community coming together to help people and children know that all is not lost and to inspire them to keep moving on their journey. I have seen the brilliant smiles of parents and children and heard their laughter. The work that team is undertaking at the border is quite possibly the first positive interaction some of these kids have had while heading towards their new homes. And yes, a brief moment in their lives, but hopefully a lasting memory that kindness, empathy and compassion can triumph over adversity.
So please remember these stories – these are the stories that matter.