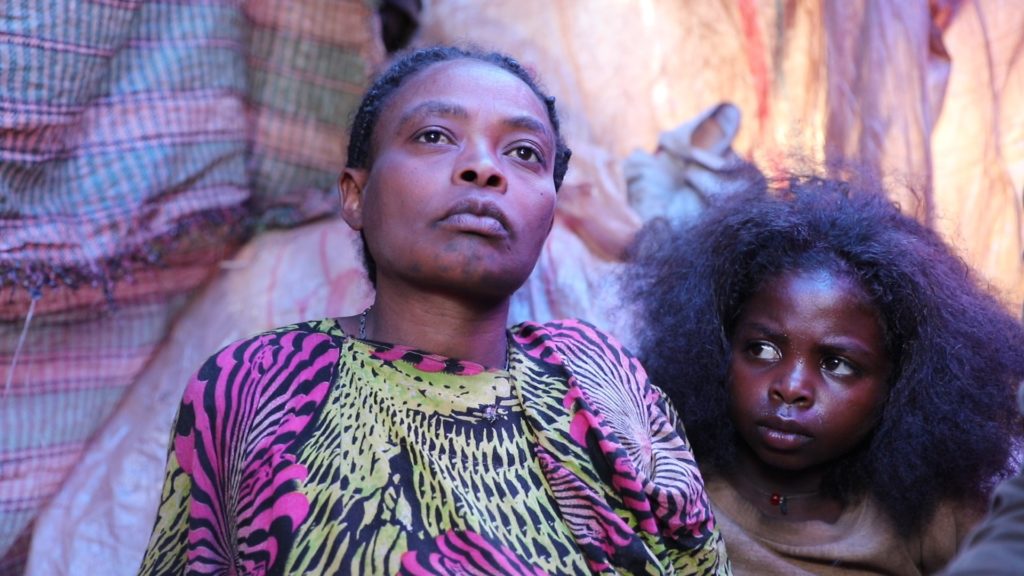 Written by Carolyn Miles, President & CEO, Save the Children
As we drove into the camp area for those displaced from home, the sea of people, goats and cows on the dusty, potholed road parted and flowed around our vehicles, each intent on going somewhere fast. The entrance to the children's area of the camp was a piece of tin in a fence of sticks and tarps and when it swung open, we could see hundreds of children running and playing and a circle of girls dancing. This is Gedeb, Ethiopia, a few hours south of Hawassa, where more than 13,000 people have come to escape violence.
In this rather sad place, we visited the happiest corner, full of children playing and learning in a Save the Children supported area. Small children learned their letters in a huge tent, with local teachers and volunteers coaxing them to the front of the room to practice at posters tacked to the canvas walls. There were few books, and even fewer toys, but the children were intent on learning and squealed in delight when one of us came to the front of the room to "help" with the lesson.
Outside, girls danced and sang in a tight circle and in the large field dozens of older kids were engaged in a lively game of soccer. Even in the worst of circumstances, children just wanted to play, have fun and learn like any child anywhere.
Internally displaced children are a real crisis in #Ethiopia – this little boy has moved several times due to conflict and now lives in a camp with few services and no chance for school pic.twitter.com/8X3TYmvsyM

— Carolyn Miles (@carolynsave) April 19, 2019
As we walked through the camp, through crowded rows of tiny huts made of tarp, sticks and dried banana leaves, the delight of the children nearby seemed even more amazing. Inside one of the shelters, I stopped to talk with a mom named Biritu, a mom of five who is pregnant with her sixth child. This was her second time coming to the camp from her home further north, where violence and looting had caused her to flee with her children. The space they were living in was about the size of a basic bathroom here at home, with tarps on the floor of mud and two tiny spaces for sleeping and living. Even on a cool day, it was steamy inside. When I asked when she thought she might go back home, she just shook her head sadly and held up her hands – a universal sign of "who knows."
We visited the health post in the camp, which is also run by Save the Children. Here there were doctors from a nearby hospital who work 15 day rotating shifts. Mothers lined up on wooden benches waiting to get babies checked for malnutrition and for their children to receive vaccinations or treatment for illnesses. Adults were receiving services too, but the biggest focus was on pregnant women and children, trying to keep them healthy.
The plight of the internally displaced people (IDPs) in Ethiopia is largely unknown. Yet there are more than one million people in just these two southern regions of Ethiopia and 3.2M country-wide who have been displaced. Many of them live in camps like the one we visited and even more live in the surrounding communities, sometimes with relatives until the resources and goodwill run out and they find themselves in the streets or back at a camp.
The conditions, despite the services offered by Save the Children and other aid agencies, are harsh. There is worry that as the rainy season approaches, this camp will be flooded. The latrines and water points may not hold out and these people could be moved yet again from this place to another. For many this might be the third or fourth move in just the past year. The children can't go to formal school and the cases of scabies, malnutrition, pneumonia, and diarrhea are growing every day. Save the Children has reached more than 470,000 of the IDPs in this region with distributions and services, but there are still hundreds of thousands of displaced around the country unreached by any aid. With a world full of crisis and disasters, the suffering of these children and their families is largely ignored.
Ethiopia is a country of great progress – one of the only countries in the world to meet the Millennium Development Goal for two-thirds reduction in child mortality from 2000 to 2015 and a country with strong GDP growth. But that progress and the opportunities it affords children is at risk of being set back for millions of children who can't get regular access to services, especially to health services and school.
As part of our Return to Learning initiative, Save the Children has been working for the past three years to get refugee children access to school within a few months of being displaced. We're working to ensure the world pays more attention to the importance of education for refugee children. I came away from this trip to Ethiopia convinced that we need to do the same for IDP children here in Ethiopia and around the world. We can't afford to let millions of children lose out on the opportunity to go to school for years on end due to displacement. Whether they are refugees in another country or displaced within their own, they deserve the chance to grow up healthy and to get an education.