Tahmina Haider, Sponsorship Manager
Bangladesh
June 2013
Save the Children Korea CEO, Michelle Kim, and International Program Director, Jiyeon Kim, visited Meherpur on February 16th & 17th, to learn more about sponsorship programs in Bangladesh. They met many children and parents as they visited the activities we implement with kind support from our sponsors.

During their short visit, our honorable guests visited an arsenic treatment plant that has ensured pure water for many families in Beltala village in Amjhupi Union. They observed a teacher-led Health Education session and a hand-washing demo by the school children in Jhaubaria Government Primary School. They also attended a grade I math class in Isakhali Government Primary School, where the teacher was using technology to teach children how to add.
Pre-primary school children of Hasnabad Government Primary School enjoyed the company of these guests and, in a Parenting session, their mothers spoke with Michelle. They told her their children do not want to eat vegetables, which they consider a problem. The CEO ensured them that this is not a problem only for Bangladeshi mothers, but for mothers all over the world.
The last stop was an Adolescent Center, where the children performed a drama about early marriages.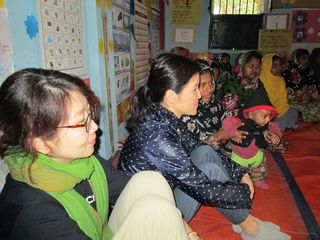 Before leaving Meherpur, Michelle and Jiyeon had lunch with some of the sponsored children at the Save the Children office. Sadia, Mohona, Sabina, Anamika, Sajib and Humaiyra came with their family members to meet the honorable guests. The children wanted to know from them how their sponsors are and were able to get an essence of their sponsors through Michelle and Jiyeon. Sajib sang a local song for the guests. One child brought a letter and two brought drawings, and they requested that Michelle and Jiyeon forward those gifts to their sponsors in Korea.
As the CEO and program director said goodbye to Meherpur, they expressed their wish to visit again, sharing that they love the children, people and food in Bangladesh.
If you are not already a sponsor, become one today!