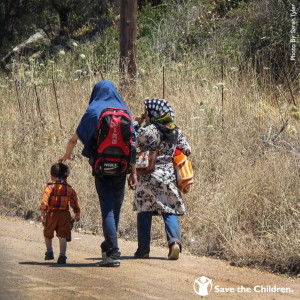 Overwhelming is the best word for it.
It has been more than a week since the photo of little Alan Kurdi, the three year-old Syrian refugee who drowned along with his mother and brother in an attempt to flee to Europe, captured the world's attention. This image has put a human face on a growing crisis in which thousands of people risk everything, every day for the chance at a better life. The fact that it's the face of a child, who deserves our protection and care, makes it exceptionally heartbreaking. 
Save the Children has been responding to the needs of Syrian child refugees since war broke out more than four years ago and our programs are already serving millions of displaced persons and refugees across the Middle East, including in Syria, Lebanon, Egypt, Turkey, Jordan, Iraq and Yemen. We're now launching responses in Greece and Serbia to address the particular needs of children (always the most vulnerable in a crisis) by providing emergency shelter, hygiene products and baby kits. 
It's easy to be overwhelmed—to feel helpless when you think about the huge numbers of people, the sheer scale of the need, the horror of the image of a little boy alone and still on a beach. But any action you take on behalf of children can help make a difference.
If you want to get involved, there are a number of things you can do:
Today, nearly half of all registered refugees worldwide are children and youth, and their numbers are growing dramatically. This is no way for a young person to spend his or her childhood. And we can change that. Over the last 4 and a half years, I have traveled many times to the region, meeting with families and children.  There is something each mom, dad and child wants – to have a life free from terror and just a chance to be normal again – to live in a community, go to work, go to school, to laugh and play.
No matter how overwhelmed we may feel by the challenges of helping these children, it's even more overwhelming to be a child refugee—torn from home, family and everything familiar. We are the grown-ups, and it's our responsibility to take on these overwhelming challenges and help guide children to safety. Please join us.