Written by Amee Barlet, Save the Children Washington Deputy Director
and Rochel White, Early Steps to School Success Early Childhood Coordinator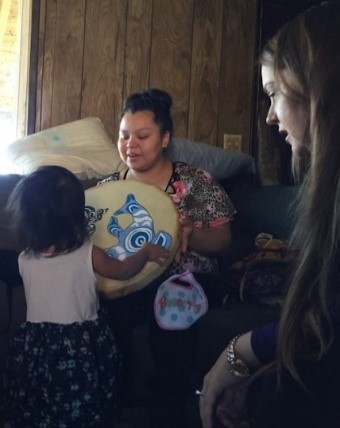 Save the Children's Early Steps to School Success (Early Steps) program and Vroom® celebrate parents and caregivers as their child's first and most important teachers. Vroom, an early learning initiative from the Bezos Family Foundation, empowers parents and caregivers to play a proactive role in their child's brain development by turning everyday moments into Brain Building Moments®.
Save the Children has integrated Vroom's science-based tools and tips into our early learning programs to advance educational outcomes in some of America's most isolated and low-resourced communities. By celebrating a community's strengths, cultural traditions and values – Save the Children is able to foster community-wide commitment to early learning while bringing Vroom's Brain Building Moments™ to cultural celebrations and traditional practices.
In Washington State, we partner with the Quinault Indian Nation to promote healthy childhood development. Rochel White has served as an Early Steps Early Childhood Coordinator since 2017 and has two decades of experience in early learning. She speaks English and Twulshootseed (the language of the Puyallup Tribe and Southern dialect of the greater Lushootseed language) and takes Quinault language classes.
Taholah, where the Quinault people have lived for time immemorial, is the main village of the Quinault Indian Nation. It is an isolated community – with one road in and out – set on the coast at the mouth of the Quinault River. Services are difficult to access, the nearest library is over an hour away, and while there is a Tribal Health Clinic on the reservation, many families must travel for at least an hour for primary care and speciality and support services. There is also a dearth of pediatricians and reproductive health practitioners in the county.
Fish runs through the Quinault River have been low lately due to climate change, hurting families that rely on them for income and subsistence. To make early learning more accessible to more families, Rochel implements Early Steps around the working hours of those involved in the hunting fishing, and shellfish industries, which follow schedules set by the tides. This has led to an increase in enrollment and engagement with the program and the visits.
Over the past year, Rochel has hosted a series of Vroom events for families with young children throughout the community. At each event, she has shared brain development information and has used the five Brain Building Basics™ to support culturally centred parent child interactions.
At one event, Rochel hosted a button blanket activity. Button blankets are traditionally worn by northwest coastal tribes. The blankets typically feature a family crest and abalone buttons. "The buttons signify your wealth – how much you have to give away and how large your family is, as those were traditional Native American determinants of prosperity," Rochel explained. Rochel handed out felt squares, traditional shapes and buttons. Parents were encouraged to talk about their families, count buttons in English and Quinault, make patterns and talk about shapes, textures and colors.
Rochel shared, "The buttons had Velcro on the back so families could rearrange their designs. We used felt pieces for the little ones and buttons for children ages 3-5. I showed how it was an opportunity to count with little ones and how families have always used cultural practices to teach their children. I posted the 5 Brain Building Basics and discussed with families how they were able to include these when they are counting, asking their little ones where they want to place their buttons or what crest they wanted, and talking about what button blankets are. Each family took home their button blanket and a copy of the Brain Building Basics sheet. I suggested families hang their blankets up or use them with a baby doll."
Rochel noted, "One grandparent sat down and counted in Quinault with her grandchildren while they chose their buttons. I was so happy to hear this and told her how much brain building she is supporting by doing that with them. She remarked 'I don't often read to them anymore, on account of my bad eyes, but I tell them stories every day.' We chatted about how much eye contact and facial expressions are utilized in storytelling."
After the activity, Rochel posted information about the event on Facebook and a parent commented, "I loved the craft! I can't wait until it's all dry and the kids can redecorate it over and over."
The vast majority of the 100 students at Taholah School struggle to meet grade level standards in Math and English Language Arts. The school superintendent reached out to Rochel to plan and implement early childhood activities to build family/school connections and help children feel more comfortable the day they start kindergarten.
During a recent family math night, Rochel planned a shape sorting and pattern activity that incorporated formline – a feature of the indigenous art of the region. One participating family included Leo[1], who was almost 3, his parents and his older sister, a kindergartener. Both parents had consistently read to their son, but now talk to him more and make a point of keeping eye contact, as Rochel had encouraged them to do. "Leo's mom was one of the first parents to really get involved in the Vroom activities. She consistently asks for more ideas each week and lets me know how Leo liked them, and if he needed more support," said Rochel. "I see that dad, as well as mom, is engaged in asking questions about growth and development as well as wanting to learn more activities to help support Leo," says Rochel.
Rochel uses the Early Steps Plan and Play curriculum, elements from the Positive Indian Parenting curriculum and her own creative ideas to enrich her home visits and parent child groups with a cultural focus. Rochel has taught parents to use heirloom cradleboards (traditional padded frames for swaddling babies) to soothe their infants. She has shown parents how drumming and singing songs can be a way to bond and develop language, math and listening skills.
"Rochel has helped us learn how to teach our children in so many ways. When we started the program my husband and I had disagreed on a lot of parenting and learning stuff, but I have become more confident teaching them now," shared an Early Steps mom.
During the current pandemic, Rochel continues to engage and support the Taholah community in fostering healthy childhood development. Rochel integrated early learning resources and critical hygiene materials into the school's distribution efforts. She held a book fair while families were picking up laptops for their school-age children. Families arrived at staggered times to collect their laptops and choose from a large selection of recently donated children's books. The event reached over 50 families, and about 170 children received books. Additionally, Rochel created early learning Boredom Buster resource kits and brought them to families who were staying safe at home.
The connections that Rochel has forged are proof of the impact she has made in the community and her dedication to raising the quality of all programs serving Quinault children. She has developed strong relationships with families as well as other agencies serving them. Rochel is frequently asked to plan an activity, drum, sing or be a storyteller for events at the school and at Early Head Start and Head Start programs.
The Director of Taholah's Head Start program asked Rochel to join their policy council, providing her with another opportunity to share her expertise on early childhood and her deep knowledge of incorporating culture into routines, curriculum and interactions. Through the Early Steps Book Bag Exchange program, community read-alouds among other endeavors, she is able to mentor other professionals and model best practice. Amee Barlet, Save the Children's Deputy Director for Washington shares, "I am inspired by Rochel's approach to relationships, culture and mentoring. I believe Rochel is an early childhood leader creating high quality culturally appropriate learning opportunities for children in the Taholah community. She is an advocate for all children."
---
[1] Child's name has been changed.