Educators, service providers and families are grappling to find the best ways to support early learning and healthy development while the world stays safer at home during the COVID-19 pandemic. Save the Children has been actively leveraging our expertise as a leader in early education to support children and families across America through our SAVEWITHSTORIES campaign and our public COVID-19 Resource Page. We know that even while schools are closed, stores are empty, and many are struggling to pay bills, children's brains are continuing to grow – with more than 1 million new neural connections forming every second, laying the foundation for all future learning, behavior and health. It is now as important as ever to help caregivers to provide young children with love, stability and learning opportunities in the face of uncertainty and change.
With extensive experience in helping rural communities prepare children for success in school and life, we are particularly mindful of the impact of the pandemic on children and families in geographically isolated and low-resourced communities. Here, infant mortality rates are higher than average and one in five children is growing up in poverty. These remote pockets are struggling with unemployment, violence, addiction and poor access to essential educational and healthcare resources – and the effects of the pandemic are intensifying these problems. Although rural communities face many of the same challenges as urban ones, they often don't receive the same attention.
With a strong history of inspiring breakthroughs in rural communities across the United States, we are committed to focussing national attention on the needs of America's forgotten communities, while bringing cutting-edge science and evidence-based programs directly to children and families there. Working with national and local partners, we employ a collective impact approach and build local capacity to deliver high quality early childhood education programs to those who need them the most. Vroom®, a Bezos Family Foundation innovation, is a critical resource in our work to advance early learning in rural communities. Vroom translates research on early brain development into meaningful, actionable activities for families to do with their young children. As families spend more time together at home than ever, Vroom's science-based tips and tools inspire families to turn their shared, everyday moments into Brain Building Moments™. We have integrated Vroom into multiple facets of our pandemic response.
During this extraordinary time, we demonstrate our organizational commitment to collaboration, creativity, integrity, accountability and ambition daily in home offices, school cafeterias, warehouses, and front porches around the country to ensure that rural families have the resources and supports they need to foster healthy childhood development. While the pandemic has spurred us to innovate more rapidly, increase our use of technology, and accelerate our partnerships, we've also returned to our organizational roots: We're leveraging our history of meeting the needs of children in rural communities, which began in the United States during the Great Depression.
In 1932, Save the Children got its start in America serving children and families in Harlan County, Kentucky – the heart of coal country – by providing hot meals to children in coal camps. The impact was immediate. Undernourished children were better fed, school attendance increased and grades improved. This effort became the model for the federal hot lunch program. A decade later, children in more than 70,000 schools across the United States were served publically funded hot lunches. Now, almost 90 years on, in response to COVID-19 our local early childhood staff are working tirelessly to address food insecurity by supporting school meal preparation and distribution during school closures. In some communities, our staff facilitate daily "grab-and-go" meal pickups in school parking lots, elsewhere they ride school busses for hours to reach the most remote corners of their districts – all to ensure that no child goes to bed hungry while schools are closed. We have always recognized the importance of health and nutrition to children's overall development and learning.
We're also committed to providing educational and mental health supports along with our meal distribution activities. In collaboration with partners, we've paired educational resources within the meals, including Save the Children's Weekly Learning Activity guides and Vroom's curated Tips™ for activities – At Home, Calm & Connect, and Resources for Stressful Times. We are also connecting families with other critical resources such as cleaning supplies, diapers, books, school supplies, games and toys. We are taking every opportunity to make personal connections and share brief moments of joy with those who may be feeling lonely and isolated. Our staff members smile, wave and greet children and their families by name as they distribute meals and resources. Some have included personalized notes with the meals, while others have organized 'parades' to follow the buses distributing them; teachers and staff honk from their cars decorated with signs of encouragement and streamers, while families stand at their doors and gates to wave and cheer!
To support parents and caregivers enrolled in our early childhood programs, we've developed strategies to engage families that comply with social distancing guidance and we're tailoring our training and technical assistance offerings to address the needs of our local staff.Because our early childhood staff are local hires, they often face the same challenges as those of the families they serve – they too are members of the same community struggling with a lack of resources and services, increasing rates of drug addiction and incarceration, and limited economic opportunities. We're providing more training on psychological first aid and on psychosocial support for caregivers to our front-line staff so that they can manage their own health and wellbeing, as they work to support so many other caregivers in their communities.
Our alternative program strategies allow our local staff to maintain communication and support families through telephone calls, text messaging, social media platforms and video conferencing to regularly check-in with families, identify their needs, and share information on local resources. To advance caregivers' knowledge and capacities, our staff are reviewing information on child development with them and encouraging caregivers to engage in activities that promote healthy developing and learning while at home. In addition to regularly scheduled communication, our staff are offering "office hours" when families know they will be available to connect and receive support in the moment.
Mindful of the impact of the digital divide on rural communities' access to online information, resources and supports, our alternative approaches include high-, low- and no-tech strategies, and have the flexibility to accommodate variation in access across our program participant population, as well as our local staff who themselves may not have reliable access. This work is informed by a recent technology needs assessment conducted by West Ed (2018) in the rural communities that we serve. It demonstrated that although a vast majority of our program participants have access to a smart phone, many lack access to broadband internet and reliable cell phone service. Additionally, many families struggle to cover the cost of their digital device and internet service, while paying for basic needs such as food and utilities. To meet the needs of these families, our staff are making printed materials and other resources available to families via mail, by home delivery, or by pick up at a central community location – such as a local grocery store.
For families with access to digital devices and reliable internet access, our alternative program strategies have allowed us to rapidly innovate and increase our use of social media and online platforms to engage our participants and their communities further. To address variation in our local staffs' proficiency in using technology, we are providing coaching and peer learning opportunities to identify and scale successful strategies across our program communities. Staff are rising to the occasion. Despite their initial apprehension, many quickly acquired new tech skills and have reported the success of their first virtual meetings with their program participants. The rewards have affirmed their hard work: Caregivers are connecting and sharing ideas and strategies for incorporating learning and engagement into their new daily routines at home and children are excited to see familiar faces and to also engage! For some families, these virtual meetings have provided an opportunity for additional family members to participate in our programming, such as parents previously unable to attend home visits or parent-child groups due to their work schedules.
In order to reach and engage caregivers across our rural partner communities, our staff are using social media to make resources and prerecorded programming publically available, including virtual book readings, and Vroom Tip activity demonstrations. Community partners, school staff and local officials have joined as "guest readers," and in some communities, local officials and businesses have provided gift cards to encourage participation in our virtual programming.
Although the COVID-19 pandemic is creating new challenges for families and providers around the world and is exacerbating the existing inequities facing children and families in rural America – Save the Children, together with our partners, is innovating and adapting to provide caregivers with the tools, resources and support needed for families to be safer and learning at home.
Highlights from the field: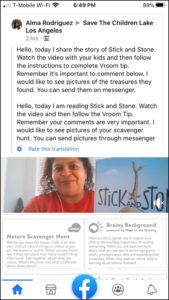 In California, Save the Children is connecting with families on social media and pairing favorite children's books with Vroom Tip activities to keep families engaged in shared reading while at home. Families respond to posted questions and share their experiences of Brain Building at home! One home visiting participant shared a video of her daughter joining in the #SAVEWITHSTORIES campaign! In the recording, her daughter sat proudly on the living room rug, carefully turning each page of her favorite book and retelling the story – complete with characters' voices and lots of facial expression – just as she'd seen multiple celebrities do online!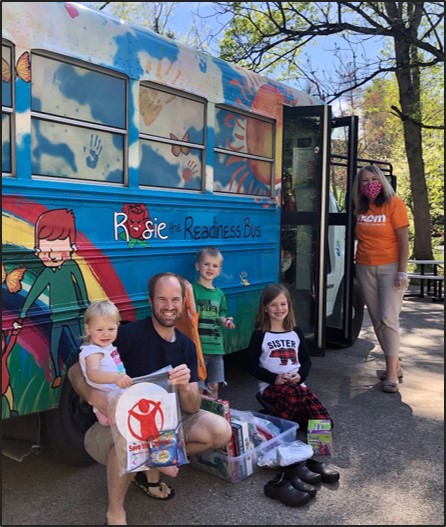 In Kentucky, Save the Children staff are demonstrating the countless learning opportunities available while families prepare food and share meals together! Staff are boarding Rosie the Kindergarten Readiness Bus to deliver meal baskets that include ingredients for a family dinner paired with a printed booklet of Vroom Mealtime Tips! In a neighboring community, staff have created a weekly cooking show posted on social media featuring a caregiver and child demonstrating a Vroom Tip cooking activity.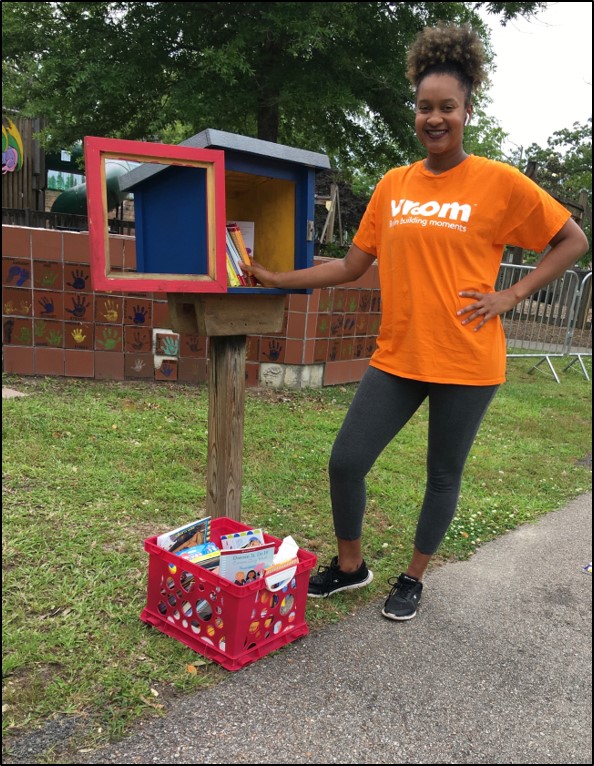 In Mississippi, Save the Children is helping families to blend Brain Building Activities™ into their home routines to develop math skills and keep families healthy! Staff are distributing learning resource kits to program participants, local Head Start partners and families throughout the area through a local community resource box at the entrance of a playground closed due to COVID-19 (featured in photo). The resource kits engage caregivers and children in Vroom Math Tips and include measuring cups, rulers, ice cube trays, and Play-Doh. Additional kits include cleaning and hygiene resources, such as wipes, tissue and soap, all paired with related Vroom Tip activity cards.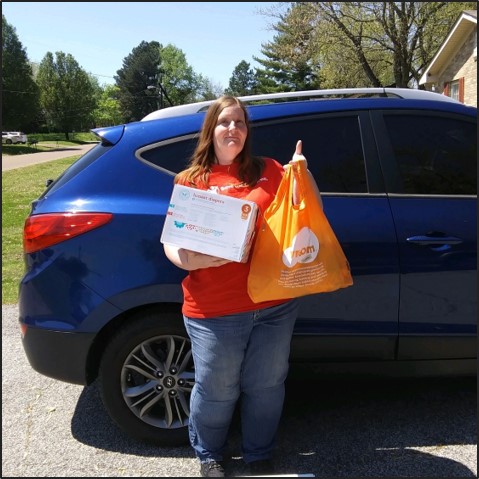 In Tennessee, Save the Children staff are meeting a critical community need by providing local law enforcement officers, first responders, local child care providers and program participants with disinfectant wipes and educational resources. Across the state, staff are sharing a recorded book reading every day on social media, modelling dialogic reading practices for caregivers and engaging children during the shared reading. Parents have reported that each time the Play & Learn Group leader pauses to ask a question, the children excitedly shout their answers back to her… eager to engage again with their group teacher and to connect the story back to their lives!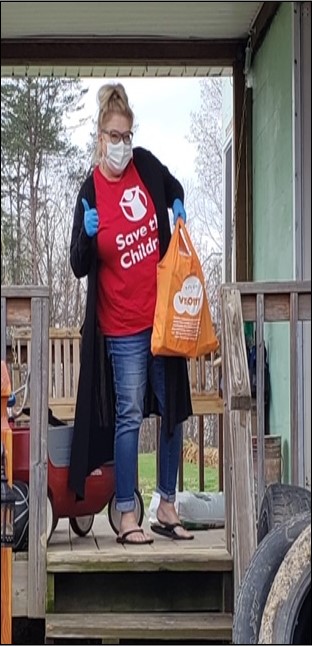 In West Virginia, Save the Children staff are ensuring that families have what they need to promote learning and healthy development at home by bringing resources directly to families' front porches! They fill Vroom bags with food, books and printed learning resources – including Vroom Tips – for families who don't have broadband internet or reliable transportation.
Key Resources
Coronavirus and Kids: Resources from Save the Children:
Weekly Learning Activity Guides for children under 5, students in grades K-1, and students in grades 2-6 (English/Spanish)

How to talk to kids about coronavirus (English/Spanish)

How to help kids cope with extended school closures (English/Spanish)

Five tips for adults for self-care and coping with stress (English/Spanish)

Relaxation activities to do at home with kids

Best practices for reading with your child (English/Spanish)

Fun ways to incorporate math (English/Spanish)

Ten family learning activities (English/Spanish)

Five tips for grandparents on staying connected

Our Picks: Free educational websites and apps (English/Spanish)
Vroom®:

New Vroom Tip™ collections (English/Spanish): Calm & Connect ages 0-5, At Home ages 0-5, Tips for Stressful Times

Vroom Moments at Home – new video playlist

Weekly Tip videos on Facebook (Facebook.com/joinvroom) every Tuesday at 10am PT