This post is part of a series authored by the BASICS (Bold Action to Stop Infections in Clinical Settings) team. BASICS is a new initiative that will transform healthcare and reduce healthcare-associated infections (HAIs) by at least 50%.
Written by Lydia Di Stefano
Research Assistant, Maternal and Newborn Health Group – London School of Hygiene and Tropical Medicine
I met Dorcas Gwata during the London School of Hygiene and Tropical Medicine's 120th anniversary celebrations. An alumni, Dorcas had returned to present on her inspiring career as a public health specialist and activist.
While her achievements are remarkable and many, they weren't what caught my attention. Rather, it was what she had done at the beginning of her career that intrigued me: Dorcas began in the relatively unglamorous role of a hospital cleaner.
Through my work with BASICS (Bold Action to Stop Infections in Clinical Settings), I know the importance of support workers in healthcare settings – cleaners, porters and security guards – in contributing to a functioning system. In particular, their vital role in hygiene: low-cost interventions aimed at educating and training workers in water, sanitation and hygiene (WASH) are an important way to reduce healthcare-associated infections. But there are barriers to their education and training.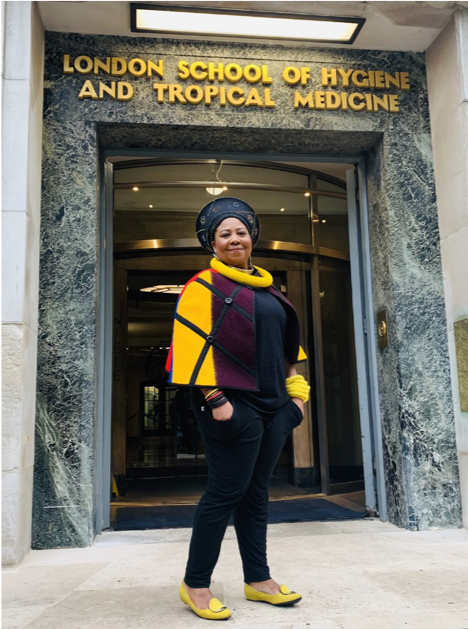 One barrier is the lack of value and respect for cleaners and their exclusion from the umbrella term "health workers." BASICS pioneer Professor Wendy Graham has written about how to overcome such barriers elsewhere.
I was intrigued about Dorcas' journey from student in Zimbabwe, to hospital cleaner in Scotland, to specialist nurse in London. Dorcas has been on two sides of the hospital workforce – as a support worker and a professional – so I was intrigued about her view of the lack of value that cleaners can face and how to combat this. Finally, as someone with experience in health systems in low- and high-income countries, I was curious about how she would compare the two settings.
Dorcas attended school until she was 18. However, she didn't get the marks to pursue the nursing career her mother wanted for her. After graduating, she pursued occupational courses but nothing really stuck. She spent time volunteering in a health clinic.
When Dorcas joined her sister in Scotland, she found work as a cleaner at a local hospital. Although it wasn't her first preference, she reflected "out of all the jobs I've had so far, that is probably the one where I learnt the most." The work was demanding – carrying heavy buckets of water and hours of scrubbing.
She received no training – in cleaning, let alone education on infection prevention – and was told in two weeks she'd lose her job if she wasn't good enough. It was hard, physical work. It was also challenging socially.
Despite the difficulties of their job, Dorcas felt that she and the other cleaners were barely acknowledged, let alone thanked by most of the hospital staff. She had come to expect so little in the way of respect, that she would be shocked if clinical staff said "good morning" when they walked past her.
She said that staff should not just see cleaners by their job title, but should look past this to explore the other side of who they are. We should be more curious and ask people about their stories: where they're from, what they do on weekends, who their children and grandchildren are.
Imagining how things might be different in a low-income setting like Zimbabwe, Dorcas suggested that cleaners may actually be more respected there, where they would be known by their totem (tribe name). Dorcas feels that there is strong sense of cultural capital that comes with respect and validation in Zimbabwe, which is lacking in high-income countries.
Dorcas was ambitious to move to a clinician role. She once asked a matron what she could do to join the profession and was ignored, yet this did not put her off. Eventually, she moved to London, where she visited hospitals to offer her services. After a day, she had two job offers: one as a cleaner and the other as a healthcare assistant. She took the assistant job and has worked her way up to where she is today.
When we spoke, Dorcas wondered where she would be now, had she been offered two cleaning jobs that day.
I think everyone who works in hospitals can take Dorcas' advice and try a little harder to acknowledge all staff, including cleaners. My challenge to health workers reading this is to get to know the cleaners on your ward. Although their jobs aren't necessarily the most glamorous, they are essential to a functioning health care system and are key to infection prevention efforts.