By: Jamila Matin Aziz, Education Senior Officer , Saripul Province
Freshqan-e Meyana is one of the villages in the Sancharak District of Sar-i-Pul province. Sponsorship programs started working in Freshqan-e Meyan in 2009. People in the Sancharak district have similar costumes and traditions but it differs slightly from village to village, it happens sometimes that one tradition is only for one village and the neighboring village does not do that.
One of the traditions in the Freshqan-e Meyana village of Saripul province is a cradle ceremony for the first baby. This story is about Bushra, the first baby girl in the family, whose grandmother, Bi Bi Zahrakhal, wants to make her cradle and do the celebration. Bushra is the first baby in her family and according to the custom, her grandmother (mother of Bushra's mother) should prepare the baby's complete bed set with the cover-up sheet made of expensive handmade velvet.
The grandmother also prepares several sets of winter and summer clothes, towel, toys, and a bathroom set including, soap, shampoo, and baby powder. BiBi Zahrakhal also prepares clothes for all of her son-in-law's family members.
Bushra's father needs to host a party on the day of the ceremony for women who accompany her grandmother. Women of the village first go to Bushra's grandmother's house and then take all the things her grandmother prepared including the cradle and bring them to Bushra's house. Whoever is interested, takes the cradle and sings and dances, and then Bushra's family welcomes the guests. The singing and dancing takes place in the yard and then they go inside. The guests drink tea and eat candies.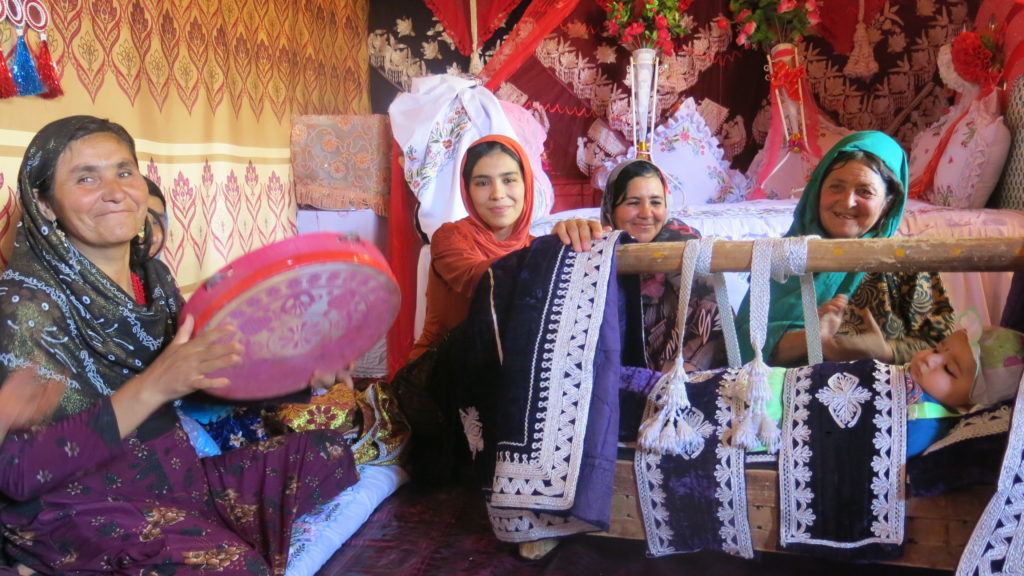 After singing and drinking, tea time occurs where the gifts are shown to the woman in the room, and then lunch is served. After lunch they put the baby in the cradle and her grandmothers says, "Bushra don't be afraid of cats' mews, don't be afraid of dogs' barks, and don't be afraid of motorcycle's noise." Usually, in this session, the baby falls asleep and all the guests congratulate the baby's mother and father. Family members pray for the baby's wellness and then they leave the baby's house.