By Zewge Abate
Internal Communications Manager, Save the Children in Ethiopia
Mebrit, 32, has four children and lives in a small village in Central Tigray, in northern Ethiopia. Being a mother is tough in her community, where families are largely dependent on subsistence farming. In addition to the daily care of the house chores – including but not limited to cooking, cleaning, looking after the children and washing clothes – mothers also help their husbands with farming activities such as sowing and weeding.
There is a saying in Ethiopia that "luck is what determines a child's development" and most community members perceive this as the truth towards child development. Mebrit always thought she was doing her very best to help her children grow well. Like all mothers in her community, she carried them on her back while doing the house chores and running errands, fed them as well as she could and love them so much. But since March 2018, when she started taking part in Save the Children's trainings for mothers with young children, she realized, "There is much more to what I was doing as a mother."
Mebrit said her one-year-old baby, Helen, "is the luckiest because I apply my knowledge from those sessions to support her to grow physically and mentally."
Something that Mebrit learned from the early learning trainings for parents was how to use the items she has available, such as corks, to make learning into a game for little Helen, and help her make sense of the world.
Now, she also talks to Helen more than she used to. "Even if she does not understand what I say, talking to Helen and telling her stories contributes to her future linguistic skills."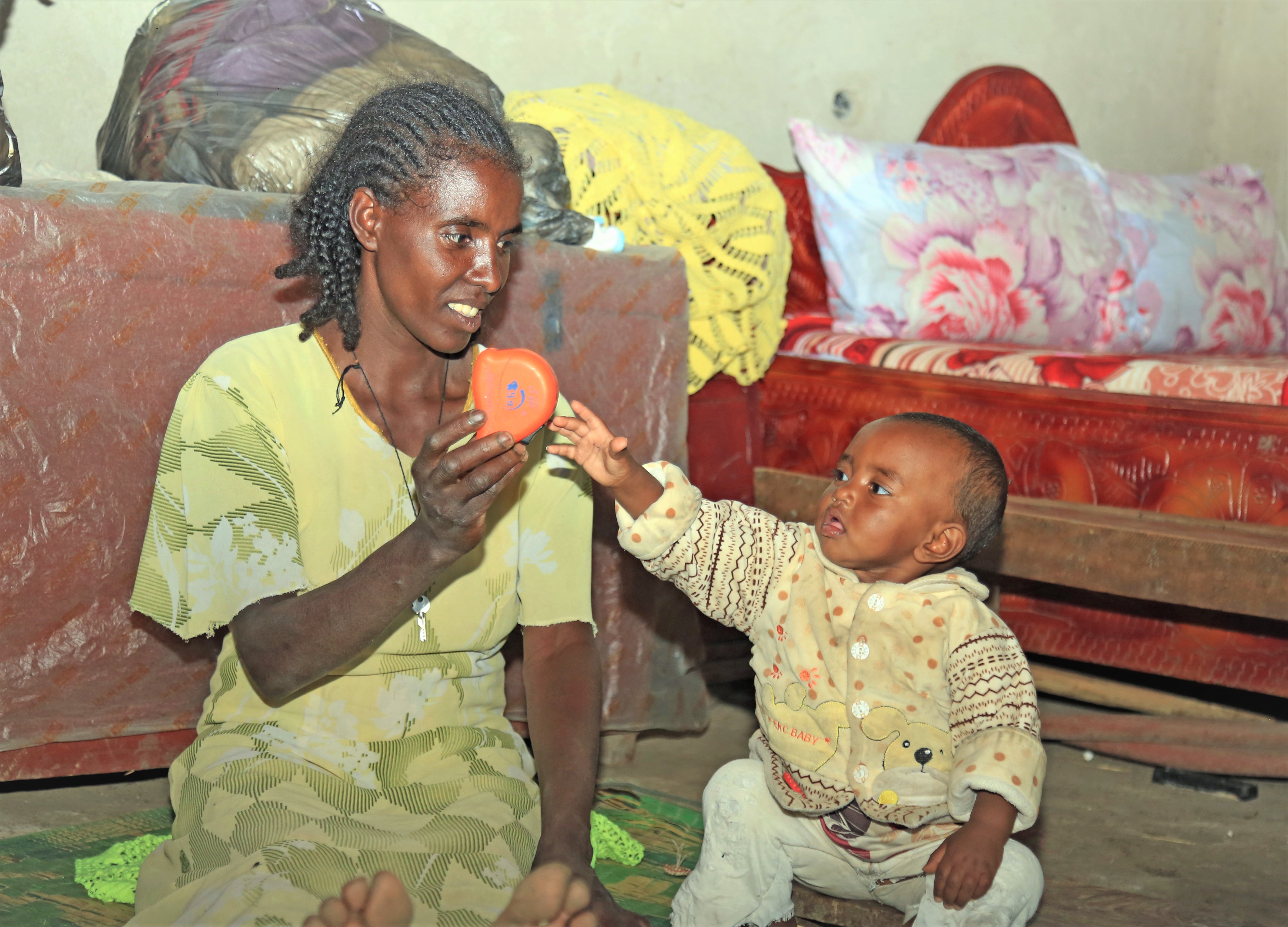 Mebrit teaching her youngest daughter Helen with household itemsLittle Helen was able to walk on her own a little before she turned one in August, and Mebrit told me, "Neither her sister nor her two brothers were able to walk until after they turned one because I didn't help them the way I helped Helen, holding her hands and always encouraging her to move."
Early learning and parenting program, provided through Save the Children's child sponsorship program, has changes children and parents' lives in over 50 villages or kebeles, in the local Amharic language.
"[Before, I] sometimes shouted at them when they messed up," Mebrit said, remembering how her relationship with her children has changed since the trainings. Having attended seven early learning sessions so far, she now makes sure that all the time she spends with Helen is spent playing and helping her thrive.
Medhin, a local health worker that supports sponsorship's programs in Mebrit's community, shared "I am very happy to see mothers actively engage in playing with and helping in their children's physical and cognitive development." Specifically for Mebrit, Medhin said, "I can definitely say little Helen has grown super active because of her mother's regular early learning activities."
Thanks to sponsors, Save the Children in Ethiopia is improving the growth and development of children in Central Tigray during their first 1000 days of life, by enhancing their connections and bonding with their caregivers through developmentally appropriate play and communication boosters.