Written by Andrew Wainer, Director, Policy Research and Jill Carney, Associate Director Global Health and Development
The global decrease in child and maternal deaths is one of the great achievements in international development in recent decades. Child mortality rates have fallen by more than half, from 12.7 million under-5 deaths in 1990, to 5.6 million in 2016. American leadership and foreign assistance played instrumental roles in this achievement, saving the lives of millions of children around the world
Nevertheless, preventable maternal and child deaths are still too high. Globally, 15,000 children continue to die each day from causes that are often preventable, such as pneumonia, diarrhea, and malaria.
The global health community knows how to reduce maternal, newborn, and child deaths, but a persistent financing gap impedes more progress. Current levels of international development assistance are not enough to achieve the Sustainable Development Goal (SDG) 3 target of ending preventable child deaths by 2030. According to the World Bank, achieving SDG 3 will require an additional $33 billion annually. To close this gap, development actors are increasingly exploring innovative financing tools that engage the private sector – and unlock new resources.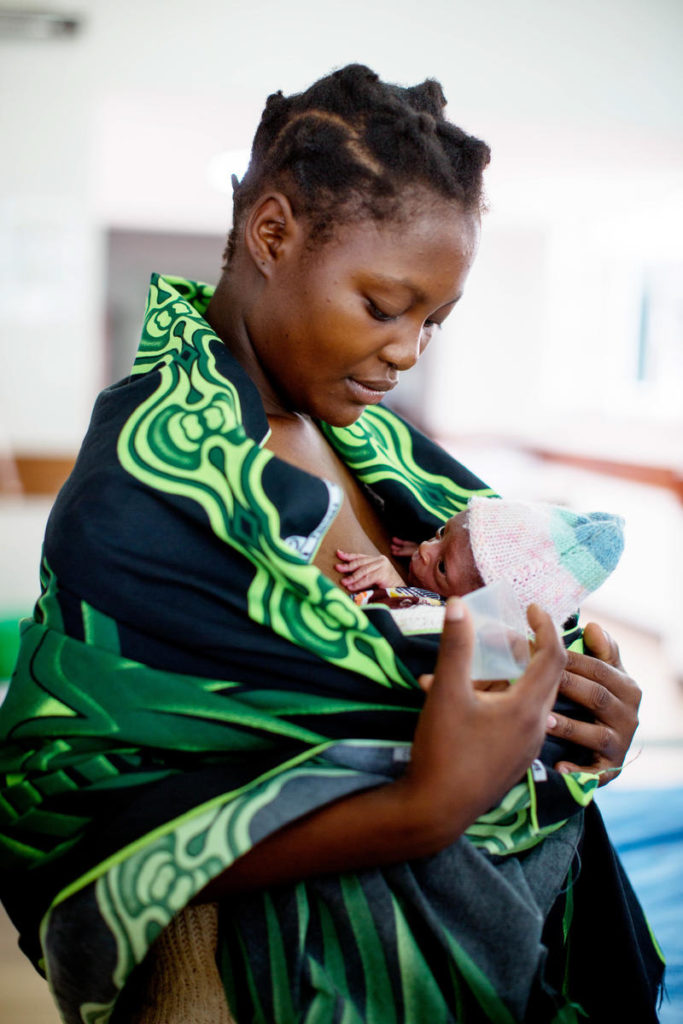 Due in part to the SDG financing gap, over the last few years, Save the Children has complemented its policy and advocacy work on bilateral assistance with a focus on identifying alternate ways to close the financing gap for poverty-focused development and humanitarian programs, including maternal, newborn and child survival.
Supported by the Bill and Melinda Gates Foundation as part of our commitment to researching and advocating for innovative financing tools for child survival, Save the Children produced a report on development impact bonds (DIBs) for maternal and child health that was launched during the 2018 United Nations General Assembly.
This report is part of Save the Children's focus on ensuring that governments are providing funding for vital services to give children a chance at a bright future – such as health, education and nutrition. This includes policy and advocacy work to increase domestic resource mobilization at the country level, especially increased public financing for health and education.
DIBs are one financing mechanism through which we can attract private capital to social projects, and for private investors to earn a profit if the development outcome is achieved. By offering a potential profit to investors, plus guaranteeing the security of impact for outcome, DIBs have the long-term potential to attract additional public and private stakeholders to international development. They are analyzed at length in our report, which focuses on two DIBs intended to improve maternal and child health:
Fine-Tuning a new Development Finance Tool
More DIBs are set to be launched in coming years, providing stakeholders with additional cases to observe and gather evidence. In the wake of the launch of the Save the Children report at UNGA73, discussion on the potential and challenges of DIBs has escalated in the United States and globally.
Through our continuing discussions with DIB stakeholders and development finance experts, we've continued to hone in on how to make DIBs more efficient and effective. The following are some of the key learnings we've gathered though discussions with our DIB research and analysis partners:
Building a DIB is Challenging
Given its complex legal and financial structure, DIBs require more effort design and stand up in comparison with traditional grant-based assistance. Organizations interested in participating in DIBs must be "DIBs ready" – prepared for the patience and flexibility needed to craft a DIB with multiple partners over months and years. Building a DIB is a complex undertaking and service providers need to ensure that their systems and structure are appropriate before embarking on one. It's also important that stakeholders use the DIB tool because it's the most appropriate for the development problem being addressed rather than bypassing that analysis and diving into the DIB structure without assessing its appropriateness to addressing the problem.
More Evidence
There are still few completed DIBs and very limited evidence with which to judge them, thereby leaving DIBs as an "open case" as to whether it can help reduce the financing gap for maternal and child survival. More evidence is needed for potential DIB stakeholders to adequately assess risks and benefits. Multiple DIB experts have discussed the need for more transparency and sharing of evaluation data and other learnings.
More Education
More evidence is a tool for additional education. In spite of growing buzz around the DIBs model, there are still relatively few investors and outcome funders involved in DIBs, in part due to a lack of understanding needed to determine potential risk and reward. Part of the solution is streamlining the DIBs process, where the costs and benefits are explicitly stated to potential future stakeholders. To achieve this, more stakeholders need to be educated on DIBs and results-based performance tools generally. In addition to identifying more outcome funders and investors, explicitly sharing the model's risks and the incentives in these roles could facilitate broader interest and participation.
Financing the SDGs
The private sector has the potential to make major contributions to achieving the SDGs, with some estimates that that there is $85 trillion, "parked in long-term investment vehicles, including sovereign wealth funds, pension funds, and insurance funds" that could be harnessed toward development goals.
DIBs are a tool to do just that, but Save the Children's research on DIBs and our consultation with experts reveals that channeling that private sector funding into development is not easy or quick. The movement from rhetoric on "billions to trillions" to the actual sustained investment of private dollars into development will require new and sometimes uncomfortable partnerships and new ways of analyzing and thinking about development finance.
And it is important to keep in mind that DIBs are one tool among many to finance development. While their introduction has facilitated important conversations on development finance, Save the Children is exploring multiple channels for financing child survival. We've conducted research on development impact bonds – a new and mostly untested financing tool—as an example to illustrate the use of alternate sources of financing.
Save the Children is grateful to our DIB research and advocacy partners for lending their hard-earned expertise to us, helping make certain that our analysis and findings are grounded in the complex realities of forging innovative finance solutions to child survival.