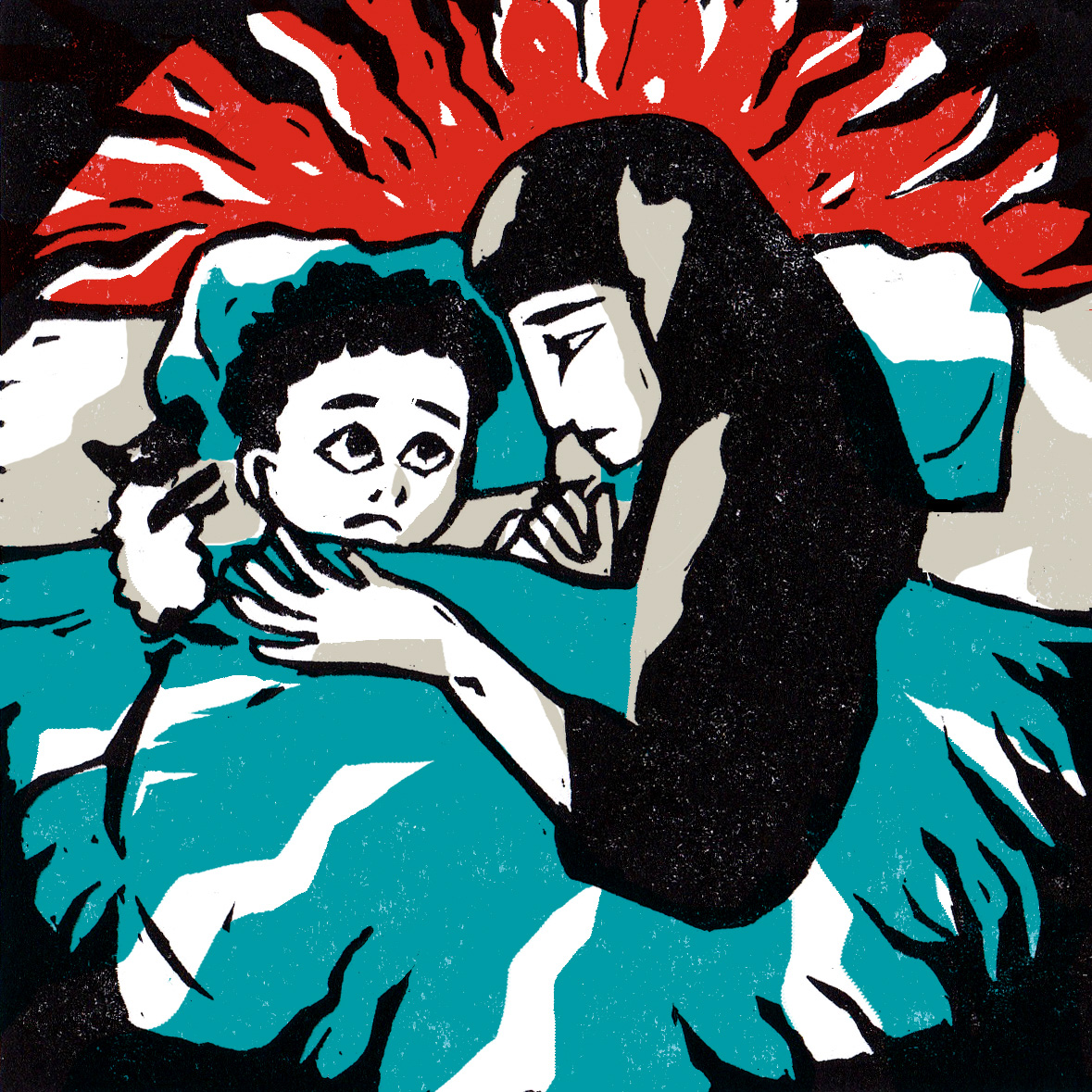 Illustration by Takayo Akiyama, Save the Children
This is the first of a three-part blog series written by a mother named Sukaina who is living and raising her young son in Yemen. Sukaina works for Save the Children in her home country, which has been at war since 2015.
It is morning, but as I write this blog post, I am already thinking about what will happen tonight. Will there be airstrikes? It was quiet for the past couple of months, but lately airstrikes have resumed.
I remember how excited we were when we moved into this apartment – me, my husband and my son. It's on the ninth floor! Which means that we have to take the stairs every now and then because electricity is not always available. My apartment views over Sana'a (that's the capital of Yemen) are amazing, but then the airstrikes started again on the night we moved in. There were four airstrikes that targeted the same neighborhood where my mom and my handicapped grandmother lived. I called my mom and I asked her to stay away from the windows and to be careful. I couldn't sleep and I was worried about her, until she texted me three hours later saying everything was OK.
Now, whenever the airstrikes happen, I lie with my little boy – he is three years old – and his one-eyed cuddly sheep and we cuddle until it is over. We stay where we are because this building has no shelter. Even if we ran down the stairs – nine floors, remember – there would be nowhere to go.
Sometimes, we put on headphones and play loud music to drown out the noise. At other times, we just listen to the sounds of the planes overhead. My little boy is so funny. He actually loves planes and carries a small orange airplane everywhere he goes. Every time an aircraft hover over, he gets all excited and jumps up and down. He says, "Whoah, let's go see the airplane!" but I pull him away from the windows, because we don't have any functioning airports here, so I know airplanes mean one thing: bombs. When I hear them approach, I think, "This might be the end".
I try to stay calm for my son. On the inside, I'm completely panicking, worrying about how on earth we will get out of here if we get hit. Somehow children always feel your stress. My son tells me, "Mummy smile. Mummy, be happy don't be sad!"
So be happy is what I try to do. Even though my country is at war, bombs are falling, and people are going hungry, I try to smile and be happy for my son.
Think of us tonight when you go to sleep – without the sound of airstrikes or the fear a bomb will wipe you out.
---
Civilians fleeing violence face life-threatening risks the moment they embark on their journeys. The most immediate dangers are death or injury due to explosive weapons, which have been used indiscriminately by all parties to the conflict with little regard for their legal obligation to protect civilians in conflict.
If displaced families manage to survive their dangerous journeys and avoid airstrikes and shelling to reach relative safety, they face further difficulties in strained host communities or in camps lacking in adequate food supplies and basic sanitation and hygiene. This puts young children at risk of malnutrition and disease in a country where the health system has all but collapsed and some 14 million people are on the brink of starvation. Save the Children estimates 85,000 children have already died from extreme hunger and disease since 2015.
To learn more about the work Save the Children is doing in Yemen, visit our website.
YOUR SUPPORT CAN MAKE THE DIFFERENCE FOR CHILDREN AND FAMILIES IN NEED. PLEASE DONATE TO THE YEMEN CHILD'S RELIEF FUND TODAY!