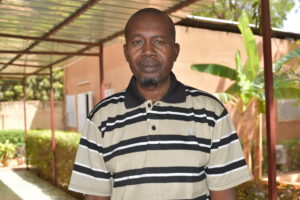 Mossi Hamadou
Sponsorship Operations Officer
Save the Children in Niger
March 1, 2019
The Hausa people make up an ethnic group that represents over half of the population in Niger. These traditional communities are characterized by the strong habits and customs of families that carry on from generation to generation, such as their traditions in agriculture, small trading and migration.
Among these traditions is one that sees education as unnecessary for young girls, and distracts them from supporting their families. Most girls from these communities pass their school years by, instead spending their time selling cakes or cola nuts in local markets and along roads.
Making parents' feelings about girls' education even worse, the schools were in poor condition, with little to no teaching supplies in the empty classrooms. In communities like these, a sixth grade student may still not be able to read or write.
It is in such a context that Sahiba, a 10-year-old girl, started to see major changes in her own life and in her community.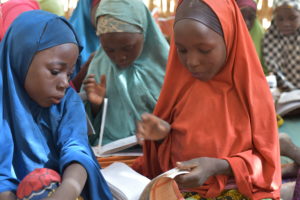 Born in a family of 16 members, her parents are barely able to afford food and clothing for all the children. The family's only means for income is their harvest after the rainy season each year, so Sahiba and all her brothers and sisters count themselves lucky if they get two meals a day.
Nothing about her home life predisposes Sahiba to perform well at school. Her father and mother are both illiterate.
In spite of her parents' aversion to educating their girls, Sahiba kept on going to school. But without any extra support, class was hard for her. After her first two years at primary school, she still felt very shy with her teachers and fellow students and did not participate in class. At 10, she could hardly read one-syllable words and was at the bottom of her class.
In 2015, Save the Children representatives started to appear in their community, first hosting meetings for parents and teachers to discuss how education for their children could help their community in the long run.
Next, the school environment started to improve, with new books, rulers and teaching guides for teachers. Where children used to sit on the dusty floor, they now had chairs to sit on. Brooms and soap were also been provided to keep the environment at the school clean and healthy. Classrooms were set-up to feel welcoming and inviting for children, and help keep them focused and engaged in their lessons.
Then, so children had the opportunity to learn outside of school too, reading clubs were set-up in the community. The reading clubs not only provided plentiful books for a variety of reading levels, in particular for struggling readers, but they also allowed children to play games while learning. Guided by a Save the Children trained community volunteer, the clubs use songs, puzzles, word and spelling games to make the club a child-friendly space, that's a little less formal than school.
Sahiba's teacher saw that she was a student who could benefit from the extra reading support from the reading clubs and suggested she start attending.
Hamsou, a community member who volunteers with the reading clubs, witnessed the change in Sahiba herself. "When she first started attending the club, she was very shy, but little by little, she enjoyed the games and songs and easily got involved, and has become good at reading and writing. I see her quick change as a miracle!''
Just two years later, Sahiba is now in grade four and at the top of her class.
Sahiba now dreams of becoming a teacher, to help other children in her community. Now that she can read and write, her confidence in herself has grown and she has new hopes for her future.
Her mother and her father are all full of praise for Save the Children. They are seeing for themselves how education can open up big opportunities for their daughter, and how a new learning environment can really impact children's ability to learn.
Sani, her father added, "We thank Save the Children for all that they did for our children," and then smiled, "We only urge Save the Children to keep on this way. Long life to the organization!"
Thanks to sponsors, Save the Children in Niger is shifting attitudes about educating girls.
Interested in joining our community of sponsors? Click here to learn more.