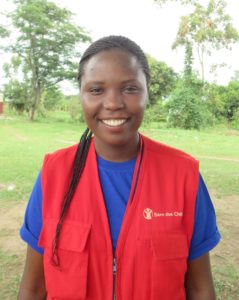 Rosemary Nanyonjo
Community Sponsorship Officer
Save the Children in Uganda
February 8, 2019
Schools are a great place for preparing young people academically, however schools can also play a vital role in preparing them to take on life's challenges and make informed life decisions.
Many children in rural areas of Uganda experience struggles during their adolescence, especially as their bodies begin to change from those of children to those of adults. Information on their growth and development, and especially on sensitive issues like sexuality and puberty, was hard to come by. This is because the conservative local culture shies away from speaking about these issues openly, which has led many adolescents to make regrettable life decisions guided by misinformation.
This is the story of Emmanuel, a 16-year-old boy living in Namayumba, Uganda, with his grandmother and four siblings.
Emmanuel was terrified when his body started to change, as he had no idea what to expect. "I didn't know what to do and was embarrassed to ask my grandmother about it." Emmanuel told me.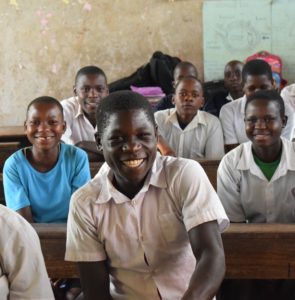 His friends had said the way to deal with his changing body was to get a girlfriend right away. "This advice left me very confused and worried about what to do… I was not ready to have a girlfriend." Emmanuel continues.
With so many questions ringing in Emmanuel's mind, he jumped at the opportunity to participate in a health talk organized by Save the Children one evening at his school. "I learned that actually… it was normal and I didn't have to be ashamed." Emmanuel says. He also learned that it would have been wrong for him to start having sex at such a young age, and about the possible negative outcomes which would have followed if listening to the advice of his friends.
Save the Children, through our adolescent development program supported by sponsors, ensures that students like Emmanuel have the right information on reproductive health, and are able to cope with the changes of puberty and make the right decisions in their lives. Thanks to sponsors, we are able to support health workers in visiting schools and organizing health talks with these young people.
The health talks encourage openness and the free flow of accurate and much needed information. Save the Children also helps train health workers in how to deliver youth-friendly services, by communicating with teens in a way that makes them feel comfortable and respected.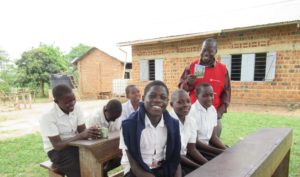 Likewise, in these programs children are encouraged to speak to health workers when they face challenges or difficult questions. Adolescents learn about the services that are available for them at health facilities so they are comfortable going there when they need help or guidance. They are also encouraged to share what they have learned with their friends and fellow students, further spreading the good information. In particular for girls, important guidance related to how to manage their menstruation cycle is provided during these health talks. Boys also learn about the different needs of girls and how to respect those differences.
After attending the health talk, Emmanuel was motivated to help his peers confidently approach puberty. Save the Children helped schools establish health clubs, so children could have more learning opportunities as well as a voice, spreading the information they have learned through music and drama at community events for other children and family members.
Emmanuel is grateful to Save the Children for empowering him with knowledge to make great choices for his life. Thank you sponsors, all the way from Uganda!
Interested in joining our community of sponsors? Click here to learn more.