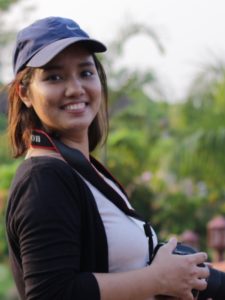 Su Yadanar Kyaw
Senior Coordinator, Sponsorship Operations
Save the Children in Myanmar
January 14, 2019
"… and the three little pigs finally chased the tiger away. The end!" Bhone, a 4-year-old boy, wraps up reading the story he learned from school with his friends and cousins, and is ready to play another game on the playdate.
Bhone is a preschooler living in Hpa An, in Kayin State in Myanmar, with his grandparents, aunty and two cousins. Bhone's mother has been living in Bangkok as a migrant worker for over 10 years now. Just like other parents from this area who move to Thailand for work, she sends her earnings back to support her family. Hpa An is close to the Thailand border and jobs there tend to pay better than those in Hpa An, where the majority of opportunities are in low-paying farming or agriculture work. For this reason, many parents do the same to support their families, sending money to children and relatives in Myanmar. As a result of this migration, many families left in Hpa An are made up of young grandparents, or young uncles or aunts, who raise the children.
Before sponsors started supporting this community, little kids like Bhone played in the mud and dirt all day long. Most children did not have any games, toys or books of their own, in particular those that help with their learning skills. Play items were what was available to them – usually leaves or discarded plastics. Grandparents found it difficult to take care of children and used mobile phone games to keep them busy and distracted.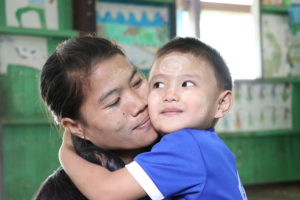 To help caretakers and give young children access to an engaging learning environment, in 2014 Save the Children started working with community members in Hpa An to establish early childhood learning centers. In addition to safe and reliable child care, these preschool programs provide children ages 3 – 5 years old with skills that prepare them for primary school, for example in early reading and math, which better sets them up for academic success as they get older.
Bhone is the first of the children in his family to receive any kind of early childhood education, since these kinds of opportunities did not exist before.
According to Bhone's aunty Daw Zar, Bhone was a difficult boy before attending the preschool. He was stubborn, sometimes behaving violently with his aunt when she did not pay heed to his requests. He did not play much with his cousins either, but mostly kept to himself.
As a part of opening the early childhood learning center in their community, Save the Children also messaged out information on child care techniques, and offered to train parents, grandparents and other caretakers like Bhone's aunty Daw Zar on how to take care of their children in ways that nurtured their development, for example how to select nutritional food options.
One key activity of these parenting education sessions was the promotion of a storytelling culture in children's homes. Sponsorship presented the art of storytelling as a simple and beautiful way caretakers, and children, could share a memory, talk about their day, or read together from a book.
Through Save the Children, caretakers learned how storytelling is one of the first language experiences for a child and thus has several advantages in stimulating their growth, such as exposing them to new vocabulary, improving their listening and comprehension skills and promoting creativity. It also creates and preserves culture and enhances family bonds, which in turn improves children's self-esteem.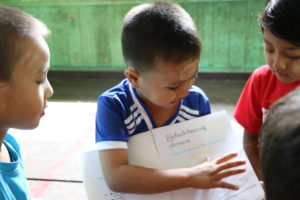 Like all children at the early childhood learning center, story time is one of Bhone's favorites at school. He has now become a good storyteller himself, remembering almost all of the stories he learns from his teacher and sometimes creating his own.
"[Now] Bhone asks me to tell stories every night. But, I do not know many stories so he is the one who tells me stories every night. I love his creation and imagination." Daw Zar proudly says, "The great little storyteller returns home every night."
"My favorite story is [about] a big bad tiger and three little pigs. I want to be smart like the three little pigs and make all the bad guys run away. Maybe I can be a police officer when I grow up" Bhone says excitedly.
Interested in joining our community of sponsors? Click here to learn more.