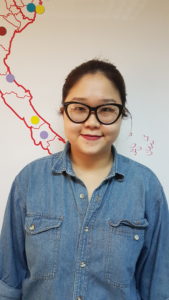 Hoang Dieu Linh
Sponsorship Intern
Save the Children in Vietnam
January 28, 2019
I've been supporting the child sponsorship program in Vietnam for about 6 months, working mostly on facilitating the letter writing relationship between our loyal sponsors and the children Save the Children supports in Vietnam.
This February, for the first time, I went on a sponsor visit and saw with my own eyes that the love between sponsors and their sponsored children is much more than just the simple words in the letters they exchange.
We went to see a 6-year-old boy named Thanh, attending his final year in a kindergarten in Bao Thang, Lao Cai. His school has been a part of sponsorship since 2014, and things have been changing a lot since then. Thanks to sponsors' donations, reading corners have been created with a wide selection of books to choose from to boost children's literacy and math skills, and many toys have been provided for both indoor and outdoor play, making the school more cheerful and welcoming for its young students. Before the school hardly had any toys or learning materials.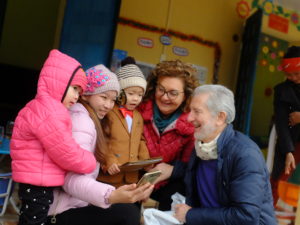 We've learned through experience that planning sponsor visits with children Thanh's age can be difficult, because they are too small to talk very much or too shy to express themselves in front of adults, let alone foreigner strangers. However, from the moment we were welcomed with hugs and kisses from the Italian sponsors, I knew that we would have a wonderful and memorable trip.
Our sponsors were a couple, husband, Giuseppe who speaks English pretty well, and his wife, Fara, who spoke French in addition to Italian but not English. I prepared myself to help support the language barrier during our visit.
Once we arrived at the school, we were greeted by a cheerful reception of children in colorful traditional clothes and gifts of beautiful handmade bracelets for each of us. We introduced ourselves to teachers and school staff, and explained the purpose of our visit to the crowd – to show Thanh's sponsors what they were supporting through Save the Children in Bao Thang. Giuseppe and Fara also wanted to see how Thanh was doing and learn more about him than they ever could through their letter writing.
Thanh himself at the beginning didn't talk much, so we had to get acquainted with his grandparents first to help him open up. They showed us all the letters that had been exchanged between Thanh and Giuseppe, and slowly, Thanh began to recognize that this stranger before him was the very same one he had shared so many letters with.
Not long after that, Thanh was happily being carried in the arms of Giuseppe as we continued to tour the school and meet with teachers. For fun, together we all made "chung cakes" – a type of sticky rice cake traditional of the Dao people, a culture prominent in this part of Vietnam – and "rom cakes" – a kind of stuffed sticky rice ball. Children also performed the local traditional bamboo dance for the visitors.
As the trip came to an end, we were all feeling comfortable and looking like good friends – myself and the other Save the Children staff with us; Thanh, with his family and his sponsors; and the teachers and other students that spent the day with us.
Thanks to this opportunity, now I know that love can be transcended from just simple letter writing, and distance or different cultures means nothing when people care about each other.
Did you know you could visit your sponsored child or the programs Save the Children helps support? Contact our team at ChildVisits@SaveChildren.org to learn how to plan a trip!