Mr. Helmy
Community Development Association Coordinator
Save the Children in Egypt
December 10, 2018
Ahmed, 15 years old, lives in the rural farming community of Assuit in Abnoub, Egypt. His family consists of his father, mother and two siblings, Mahmoud and Sara. As with most of the local families living in Ahmed's low-income community, his father pressured him to drop out of school to help support their family's basic needs. Without another resource to support their livelihood, their family wouldn't be able to afford food or clothing.
"My father asked me to quit school. Obeying his wish, I started working, as he does, as a local worker, leaving all of my dreams behind," Ahmed remembered. His father made a small income by knocking down walls or parts of houses prior to construction projects.
Many children in Assuit feel this threat to continuing their education, and suspend their ambitions.
Through a Save the Children volunteer working in his community, I heard about Ahmed's situation. I visited Ahmed's house and urged his father to let his son continue his education. I explained that through our program, Ahmed could learn how to obtain a small loan and how to start his own business project. He could participate over the summer, learn how to earn money and still return to school at the start of the next academic year. Though he refused at the beginning, I was able to convince Ahmed's father to enroll him in our adolescent development program.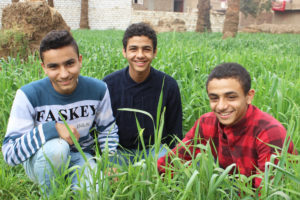 Our work aims to build teens' life skills, by providing career counseling and livelihood activities so they can explore labor and local market needs and be prepared to make informed career choices. They also learn how to develop projects using local resources. Through these activities, adolescents are given the chance to play an active role in their society. Without them, they would have had no career options except to follow in the footsteps of their parents, finding work in low-paying local labor.
"I still remember how helpless I was before Mr. Helmy's visit. All I knew was that I would end up with a chisel and a hammer just like my father," said Ahmed.
Ahmed started participating in our Tomohaty program, meaning "Ambitions" in Arabic, in May of 2017. He learned how to start, manage and finance his own start-up business. He even motivated his brother and cousin, Mahmoud, to join, who was also in a similar situation with his own hardworking father, hungry family and personal desire to finish his education.
Together through the program they were able to receive a loan to rent a small plot of land. The boys started cultivating a farm with mulukhiyah, a vegetable plant common in Middle Eastern countries and a main component of traditional dishes in the area. The farming skills they already had learned from their grandfather, so now with the loan and the skills learned on how to manage their expenses and goals, they were ready to try something new.
By the end of the summer, they were able to successfully grow three harvests of the crop to sell, covering all of their expenses and helping their families.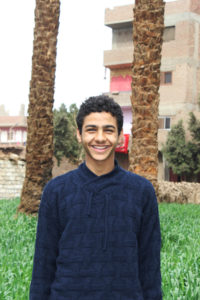 "I am now self-confident. I feel like I'm able to reshape my future. I feel powerful." said Ahmed proudly.
With the extra money made over the summer, Ahmed was able to return to school. Today, his next big dream is to finish high school.
Without sponsors, many children would remain as Ahmed was before sponsorship, deprived of any ambition, dreams, hopes or goals. "One of the reasons I feel proud of being part of Save the Children is our ability to create new opportunities for children." said Ahmed, with a worldly understanding beyond his years.
Interested in joining our community of sponsors? Click here to learn more.