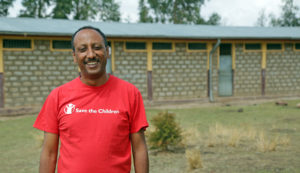 Zewge Abate
Internal Communications Manager
Save the Children in Ethiopia
November 8, 2018
In a small rural village in West Showa, Ethiopia, lives 10-year-old Kebene. Now in 3rd grade, she tells me her favorite subjects are Science and Oromiffa, the study of the local language. Most families work as subsistence farmers, although parents hope for better lives for their children.
In this area, subjects like menstruation, reproductive health and family planning were traditionally not openly discussed by parents with their children, even considered taboo. Girls would be completely unprepared when getting their first period. They would run home from school, embarrassed and unsure of what to do.
Luckily, teachers like Getaneh are working hard to prepare students like Kebene for the challenges of adolescence.
"We help them to prepare for the changes they start to experience," says Getaneh.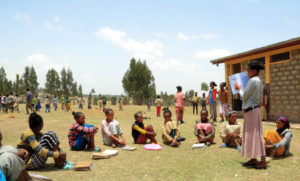 He acts as point person for the community, working with Save the Children staff to ensure he and the other teachers learn how to discuss health matters with adolescents related to their reproductive and personal health skills, in particular issues that affect girls.
In addition to training teachers, students are able to discuss harmful traditional practices, like early marriage or female genital mutilation, in a more comfortable and open setting – such as outdoors sitting in a group with peers and friends.
Getaneh learned that even though she was still just 10, Kebene's father already had plans to marry her off to someone she had never met.
Luckily, thanks to the adolescent development programs now available at her school, she considered early marriage as something harmful, that restricted her from experiencing childhood and having choices in shaping her future as an adult.
"I am too young to marry and I don't want that to happen to me. All I need is to continue my education and become a Science teacher in the future."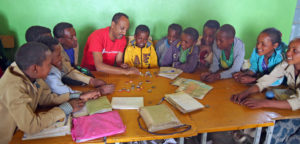 Kebene went to her school director for help, and now he and Getaneh are working to invite her father to discussions at the school, as well as meeting with community elders and local administration to help convince her father to change his mind. Though they are still meeting with him, they are confident they will soon receive the good news that she will be able to continue with her education.
Kebene and her friends can now learn how to educate their families about why these traditions are detrimental to both their lives as children as well as the future of their village. By discussing these issues, they raise awareness on how they feel about their rights as children and as girls. In this way, knowledge is cascaded through the community.
Thanks to sponsorship, now that these topics are taught at schools in child-friendly and relaxed settings, girls no longer feel too ashamed to go to class or fear speaking up about their hopes and goals.
Interested in joining our community of sponsors? Click here to learn more.