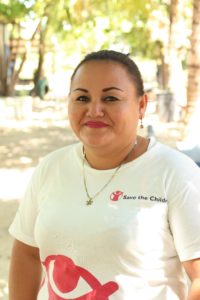 Vanessa Amaya, Community Volunteer and Mother
Edited by Carla Urrutia, Sponsorship Quality Communications Coordinator
Save the Children in El Salvador
November 17, 2018
My name is Vanessa. I am the mother of two children, my son Abelardo who is 11 years old and my daughter Yanitzi who is 5. I have had many jobs to help support my family, such as work in agriculture, harvesting sugar cane, sweet plantains, beans and other crops, as a cashier and in a maquila factory, or a kind of industrial manufacturing factory, as a seamstress.
While I was working in that factory, my mom used to take care of my kids because I left very early in the morning and returned home at night. It is very common in this part of El Salvador for both parents to work outside of the community, spending long hours away from home and needing to leave children in the care of grandparents.
Back in 2011, she is the one who told me we should enroll Abelardo with the people at Save the Children, after she had met with some members of our community who volunteered supporting sponsorship. I agreed just to please her. I remember I helped him to write a couple of letters to his sponsor, but other than that I wasn't involved since I was always working. I knew my mom used to take him to the book circles hosted in our community, but I didn't have time to know much more than that.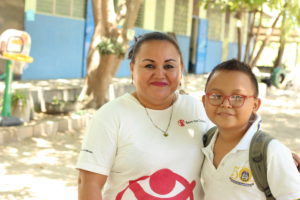 Years later, when Abelardo was in third grade, I was not working in the factory anymore and had more time on my hands. I decided to look into volunteering with the organization I knew had been supporting the education of my son. Luckily, an opportunity to become the main point person for Save the Children on behalf of our community was available. I applied and thanks to the work experience I had and my high school diploma, I was selected by the community and by Save the Children.
While volunteering, I received trainings on important skills and knowledge related to health, hygiene and nutrition. For example, how to make well-balanced meals for children at home or why handwashing helps prevent illness. I then cascade that knowledge through my community by meeting with school staff, who then in turn guide child groups through fun activities that teach them these important health skills.
Now that I'm on the "other side", I'm surprised with the many benefits our community receives thanks to Save the Children. My son has learned and changed a lot. He is part of the health club at his school, another part of the sponsorship health and education programs, and his favorite thing is to practice and to teach the correct handwashing techniques.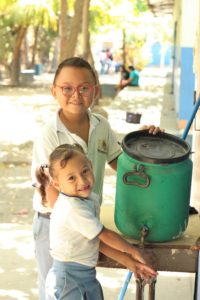 Abelardo shares, "I have been part of the health club for three years. My favorite thing is to wash my hands because I like having clean hands." He adds thoughtfully, "My school is better now because in the past children used to say 'I already washed my hands,' but they had only used water and dried their hands on their clothes. Now, they know they have to use soap and dry their hands in the air."
He teaches these skills to the other students as a part of the club at school, to his little sister Yanitzi and to our neighbors and friends. When I'm around watching him, he always says, "Right, mom?"
I'm so proud that he knows I have this health knowledge too, and it's been such a joy to be able to learn and experience this growth with him.
Interested in joining our community of sponsors? Click here to learn more.