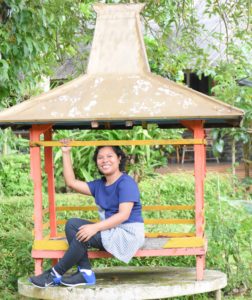 Yasintha Bere
Data Quality and Communication Officer
Save the Children in Indonesia
October 22, 2018
"Becoming a teacher is no longer merely a job. It has become a calling!" Solvi, a third grade teacher at an elementary school in Sumba, Indonesia, said enthusiastically in an interview with me.
Solvi is a passionate teacher who jumped right into her career after graduating with a teaching degree several years ago.
The commitment to dedicate one's life to teaching children is not a desire that suddenly pops up. It takes many long years of focus and growth. When she graduated, the world of teaching, particularly to younger students, had been so intriguing and challenging. Who could miss the opportunity to work and play with children or to help them pursue their dreams? What a contribution to the future of this country a teacher could provide through this role. It was a mix of idealism and adrenaline the young teacher possessed as she entered the classroom her very first day.
Since then, she has learned that time can sap away your idealistic values and energy. Life may have not been as simple as expected. Solvi, a once passionate teacher felt she may have reached a breaking point, where she found herself reflecting on whether becoming a teacher was the right decision.
She found that most of her early grade students were still unable to read fluently or construct words, and that generally literacy skills were lacking for whole communities all around their island. Teachers tended to be impatient when students struggled to read, meeting their challenges with the traditional teaching methods that did not allow for flexibility in lessons to teach children at different reading levels. Without child-centered or fun activities incorporated into the classroom, younger children were bored and frustrated in class, and not interested in learning. Parents, either due to their own illiteracy or due to time spent out of the home trying to earn a living, were unable to support their children's education outside of school.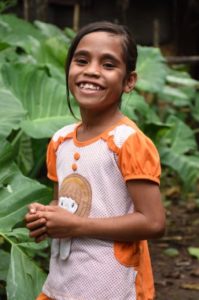 After a few years dealing with these challenges, Solvi was close to giving up. She had changed from her formerly patient self, easily becoming angry with her students who were unable to understand the lessons. Likewise, her students felt awkward, uncomfortable and even scared in the classroom.
Then came an invitation for a series of trainings conducted by Save the Children for teachers of early grades. Solvi jumped at the opportunity to participate.
One specific training left a deep impression on her, on the topic of effective learning. She learned about how to realize and celebrate the different abilities of the children in her class. "We are taught that no child is stupid. They are all smart on their own. It depends on how we, as teachers, recognize their potentials and maximize [their abilities] for learning," she said. Solvi and the other teachers learned different skills to use in the classroom setting, and how to deliver activities in fun and friendly ways for children.
Solvi then came back to her school with a fresh perspective, determined to improve herself in her role as teacher. The first thing she did was to provide additional tutoring in her home for students who could not construct words and read fluently. "Starting something new needs strong commitment and I am ready for this challenge for the sake of my students." she said.
She had learned how to utilize the strategy of peer learning. Through this method, teachers pair students who are strong readers with those who are not. Using group or partner work in lessons not only helped make learning fun, but also benefited both struggling and strong readers with extra reading practice.
Within months, after applying the knowledge she learned from the trainings, her students' performance began to improve. Before trying her new teaching methods, only 6 of Solvi's 27 students could read fluently. By the second semester of utilizing the new methods, almost all her students could.
She had changed the way she approached her students. She learned how to understand and communicate with them based on their character. She set a good example with warm greetings and sweet words, to make her class somewhere all students felt welcome. She became much more patient and attentive to students with specific needs, building close relationships with each of them.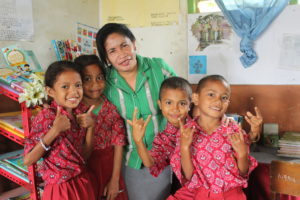 Anastasia, one of her students, told me that she was surprised by her teacher's transformation. While before she would be scolded for failure in class, now Solvi treats her more patiently. "I am sure my Ibu [honorable local term for female teacher] loves me." Anastasia shared. "How we miss her terribly every time she is away from school. We cannot wait as the morning approaches to see her," she smiled.
Solvi reflected, "I am very grateful Save the Children implements their program in our school so I can be a part of it. With all the training, coaching and mentoring sessions, I have become a good teacher for my students. I now have come to realize that this is the role I am meant to be filling – playing, learning and having fun with children!"
Today, Solvi believes that if the teacher can create a comfortable learning environment, students can easily grasp and understand whatever lessons they learn. She told me, "When we teach with heart, we transform love and intelligence!"
Interested in joining our community of sponsors? Click here to learn more.