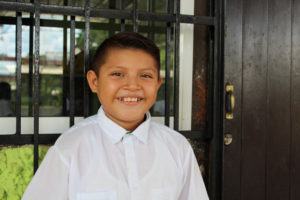 Edwin Antonio
9-year-old Sponsored Child
Save the Children Mexico
October 15, 2018
Hello everyone! My name is Edwin Antonio and I am 9 years old. I live in a beautiful and colorful little town called Chemax in Yucatan, Mexico. I like it because we have nice green areas where I can play with my friends. In the mornings, I go to elementary school. I am studying in fourth grade, and I am very excited, as soon I will be in fifth grade – just like a big boy!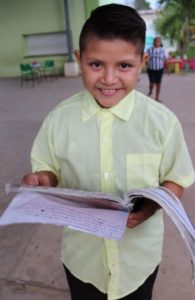 My school is also very pretty, green like my favorite color. I love it because we have a courtyard where my classmates and I play every day after class, and sometimes we ride our bikes there. As it is very sunny and hot over here, we drink lots of water from the filter we got thanks to our friends from Save the Children. Clean and fresh water that we can enjoy at any moment – this is something we did not have before. We had water at the school, but without the filter, we drank directly from the tap, which had unclean water and made us sick.
I like it when our friends from Save the Children come to visit us and we do nice activities that helps us to learn and have fun at the same time. For example, we learn how to read and sing songs from our books, and play games that help us learn how to talk about our emotions using puppets and other toys. We always have a great time when they come and we look forward to their next visit. My teacher says they have earned our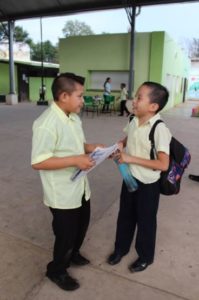 whole school's love and appreciation.
There are days when I feel even happier because I get letters from my friend from far away. My sponsor is a very good person. In her last letter, she told me that she is a lawyer and she has a kitten named Berry. I like her so much so I sent her a nice letter made all by myself with a lot of colors and a drawing, I'm sure she loves it.
Having a friend like her is incredible because, even though I don't know her in person, I know she thinks of me and always helps me in the ways she can. I am sure she is also happy to have me as her friend.
Many kids like me have friends that send them letters at our school. We are very happy to know we can count on great and kind people like my sponsor and Save the Children.
Did you know you could communicate with your sponsored child by email? This not only helps us save on postage and get even more money to our programs that benefit children, but also will help you get a faster reply from your sponsored child! Consider sending an email today by visiting your online account, at Sponsor.SavetheChildren.org/MyAccount.
Interested in joining our community of sponsors? Click here to learn more.