Photography by Junaedi Uko
At least 600,000 children have been affected after a catastrophic 7.5 magnitude earthquake and 20-foot-high tsunami struck Indonesia on September 28.
"Many children are in shock and traumatized, alone and afraid," said Child Protection Advisor Zubedy Koteng from Palu, the epicenter of the crisis. "Young children searching for surviving relatives will have witnessed and lived through horrific experiences which no child should ever have to see or undergo."
Nine-year-old Puri* is one such child. Trapped under rubble for five hours, Puri was found and rescued by her brother and a group of other but suffered a serious head injury. Here is her story.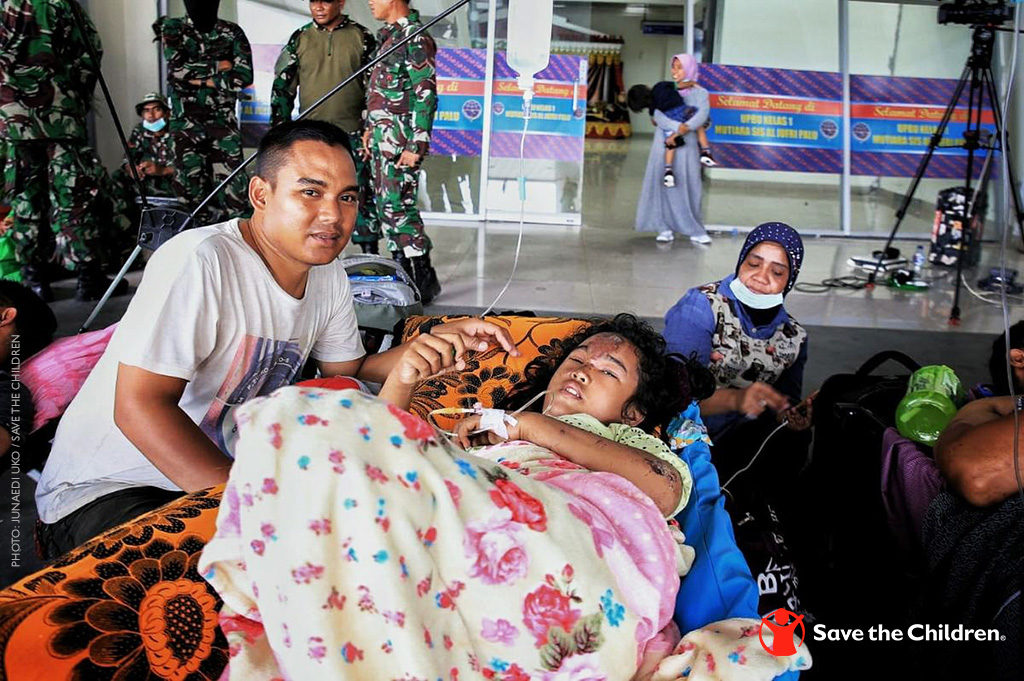 The ground beneath Puri's house began to shake just as she was preparing her evening prayer. The pillars of the house fell on her head before Puri had a chance to realize what was happening around her. She cannot remember anything after that.
"Our house, where Puri was found," explained Puri's brother Dimas,* "shifted almost 50 meters from its original location. Very few houses remain intact. I didn't expect anything to be saved at that time. Puri's survival was a miracle."
When Dimas found Puri she was almost unconscious, buried face downwards in the rubble. She had been using her one free hand to make noise and attract attention.
"Some people who were also looking for their families heard her cries," said Dimas.
Miraculously, Puri's cries for help were heard. She was found alive but was badly hurt and suffering from a serious head injury.
When Save the Children spoke to Puri and her brother, the siblings were at Mutiara Airport in Palu, awaiting an emergency plane to take them to Makassar for treatment.
Save the Children, working through its partner Yayasan Sayangi Tunas Cilik (YSTC), has delivered vital aid on a military plane to Palu.
"I can't overstate how much this aid is needed by children and families impacted by the disaster," Zubedy Koteng, Child Protection Specialist with Save the Children's national entity in Indonesia, said.
"The earthquake and tsunami cut off many transport routes in this remote area. We sent out three teams, on different routes, with as many supplies as they could carry to ensure we could reach people as fast as we could but the journey has taken days. We are relieved that these much-needed supplies have arrived by plane and are starting to get through.
"Children urgently need shelter and essential hygiene items to prevent the spread of diseases and contamination as families are packed into evacuation centers with limited supply of clean water. We're also sending school kits to ensure their education isn't interrupted any further."
Save the Children has been working in Indonesia since 1976, and has a long history responding to humanitarian disasters in the country, including the recent earthquakes in Lombok and the 2004 Boxing Day tsunami.
*Names changed for protection
To learn more about Save the Children's work in Indonesia and how to help, please visit: savethechildren.org/Indonesia.
YOUR SUPPORT CAN MAKE THE DIFFERENCE FOR CHILDREN AND FAMILIES IN NEED. MAKE A DONATION TODAY!