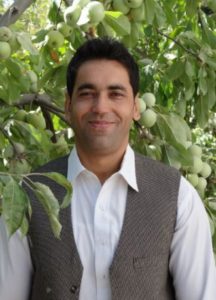 Nasir Sarwary
School Health & Nutrition Assistant
Save the Children in Afghanistan
October 1, 2018
Hedayatullah, 17 years old, is a student in eleventh grade in a village situated in the beautiful mountainous range of Gorziwan District in Afghanistan. He lives in a small house made of packed mud, with his parents and five siblings. His father is a teacher in his school and his mother cares for their home and the children. His life is similar to that of any other boy his age in his community.
Before Save the Children started supporting their community, like many other children in their village Hedayatullah and his siblings were often sick and had to miss school. Medicine was costly for their family, especially with so many children to care for and such frequent illness. Attendance rates in the schools were low as children stayed home due to cough, fever and diarrhea.
In June 2006, sponsorship started health and nutrition programs in Gorziwan to help address these challenges. Save the Children found most people, especially mothers and children during their time at home, were not aware of how to keep up with their personal and environmental hygiene, and how simple steps like always using soap when washing hands could help keep their whole family healthy. In this area of Afghanistan, 90% of parents are illiterate and likewise their knowledge about health, nutrition and hygiene was very low.
Hedayatullah shared, "Before Save the Children programs, we did not wash our hands before taking meals and after using the bathroom." He explained that they weren't aware that good personal hygiene could help keep them from getting sick. "I didn't even cut my nails regularly," he remembered.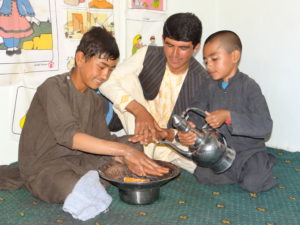 Since he was 10 years old, Hedayatullah has been an active member of a Save the Children supported child-focused health education group. Through these groups, children learn how to adopt healthy practices, as well as promote and spread those healthy practices amongst their family and the community.
By being truly child-focused, the health groups utilize the way children think, learn and interact with each other to not only help children help themselves stay healthy, but also to use children as a resource to create change in their communities. This is not only a cost effective way to transfer knowledge, but also deeply involves community members and children themselves in shifting behaviors and norms, making those changes more sustainable. Save the Children supports by training group leaders and facilitators on problem solving, teaching methods and discussion techniques, and providing teaching materials for them to use, such as handout activities, storybooks with related lessons and posters.
While he happily learned in these groups from the age of 10, now as a teenager he volunteers as the group's leader.
In this role, Hedayatullah spreads health messages to a group of friends and younger students in a casual way, using their local language and personal relationships to make learning fun and relate to each other during the lesson. The boys use games, songs, storytelling and role-play to make sure everyone feels involved.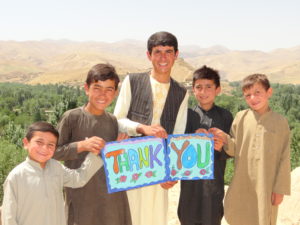 Since they are learning with friends, experiences and ideas are shared more freely. The environment feels more intimate and relatable than it would if an adult was leading the discussion.
As a participant in these programs for almost a decade, Hedayatullah has seen for himself how today more children practice good health and hygiene, for example regularly washing their hands with soap or boiling water instead of drinking straight from the river.
His experience leading the child-focused health group has even inspired Hedayatullah's future aspirations. Since his role as group leader is similar to that of a teacher, he hopes to become a teacher one day to be able to work with students as a profession.
He concludes with a thoughtful smile, "I feel proud when all the group follows me and want to learn from me."
Interested in joining our community of sponsors? Click here to learn more.