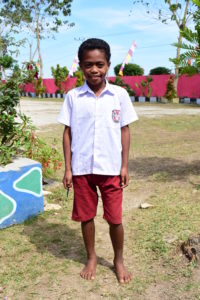 By Agus, Edited by Suciati Bobu
Sponsorship Operations Staff
Save the Children in Indonesia
September 6, 2018
On February 13th, 2017, I was spending time with my friends playing around our home, when my teacher came to visit. As I approached wondering what news the teacher had brought in to my parents, I was called, "Agus, please come in! I've got something to tell you!" The teacher waved me to come closer, "You know what, you are going to have your sponsor visit you soon," she told me. "Your parents are okay with the visit. What do you think?"
I thought, "Wow, there is a foreigner coming to visit me! Is it true? Is there someone who wants to come a long way to visit me in my village?"
I live in a small farming village in the mountains on an island, where it is very rare to receive visits from outsiders, even from the little town here. Expecting a foreigner to visit me was beyond my imagination. As a school ambassador of Save the Children, I have a sponsor in Korea whose name is Mr. Choi. We write to each other through letters. Is this Korean man sure he would like to come to see me? Questions boomed in my head.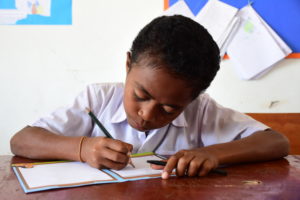 "Yes!" I gave my short answer with a big nod. It was a 'yes' with a mix of wonder, many questions and of course, excitement.
Time flew by and it came the day of the visit, the 5th of May, 2017. My parents came along to school to meet Mr. Choi and his family. I was excited about meeting them. "What will they look like?" I saw a group of people stepping out of the car. I could see four beautiful people who looked different from the others. They were Mr. Choi, his wife, and their son and daughter – Wonho who was 5 and little Yunji who was just 3. The other two were Save the Children staff who helped facilitate the meeting. "They are here, it's unbelievable!" I thought to myself.
When it came to the introduction part, I was so nervous. I did not know what to say to Mr. Choi and his family. I had no clue how to speak Korean, even English. Luckily, the people from Save the Children helped me. It was surprising to know that Mr. Choi still remembered my dream of becoming a pilot. I recalled that I once mentioned it when I wrote a letter to him. He knew and remembered that about me, and much more through the letters I sent. He told me how keen they were to visit me. I felt so special.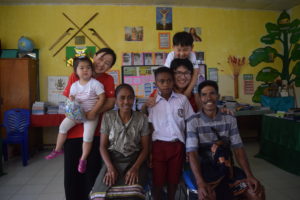 We then walked together to see the other students. As Mr. Choi is a dentist, he brought hundreds of toothbrushes. We shared them with the other students at school. In class, we learn about how to have good personal hygiene and nutrition, and learn about how and when to brush our teeth, too. Just like Mr. Choi does at his job!
Before leaving, Mr. Choi came to me and said, "I'll try to come back. Please study hard to reach your dream. Go to school every day and obey your parents!" It was just a few of hours meeting, but seeing them leaving was heart breaking. Yet, I know that we would still communicate through letters. Most of all, I am now confident in studying even harder in order to pursue my dream.
I know that I have my other family in another part of the world who always supports me.
Have you written to your sponsored child lately? A quick note with a few words of encouragement can make a world of difference for a struggling child. Consider sharing a message with them today!
Interested in joining our community of sponsors? Click here to learn more.