Written by Sandra Anthony, Save the Children Ambassador, Marion County School District, Mississippi
Alone, we can do so little; together, we can do so much – Helen Keller
For me, "community" is rooted in fellowship with others as a result of sharing common attitudes, interests and goals. One of the most important obligations of a community is to make sure that its children have a chance at a successful future. Protecting vulnerable young members of the community who do not have a voice – from neglect, poverty, abuse and violence – is essential. It is also the community's responsibility to promote education.
When I became community and kindergarten readiness ambassador for Vroom, an initiative of the Bezos Family Foundation, my eyes were opened to the need for more educational development in our small, rural community of Foxworth, Mississippi. We did not have the resources for parents to support their children's learning outside of school and the closest library is 30 miles away. Many families lack transportation. I knew there had to be a way to inform parents how important it is to educate young children at home before entering kindergarten. Yet, for families living in poverty, parents often wake up in survival mode and stressed about whether they can pay the electric bill or stretch the food supply. As a result, I found that many parents were forgetting to take an active part in the education of their children.
The arrival of Vroom transformed our community.
With the help of Vroom tips, I was able to connect with local businesses and churches in the community and demonstrate how they could support early child education. To reach a broader area, I set up a social media Vroom page highlighting how easy it is to incorporate Vroom into everyday activities. I literally saw the community begin to light up! I began to receive feedback from parents on how they incorporated Vroom into small daily tasks like cleaning, bathing and riding in a car. Understanding the need for these resources, stores allowed me to put up posters and flyers. I created Vroom placemats for restaurants to pass out to families waiting for their meals so they were able to have a literacy experience together. Three churches allowed me to come speak about Vroom. During these events, I would have Vroom pamphlets, posters, tip cards, shirts, keychains and books to distribute. At the community's fall festival event, children were able to pick pumpkins with tips attached to them. As the word spread, people would actually stop me as I walked down the street or call and say that they had seen my posters and wanted to know more about the five basics of Vroom (Look, Chat, Follow, Stretch, and Take Turns).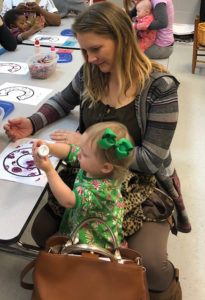 It was during these conversations that I met Katheryn Lowery and her daughter, Abby Raye (at left). Mrs. Lowery stated that she was 36 when she found out she was expecting. She was not familiar with Vroom techniques and did not believe she had the skills to teach her daughter. What an opportunity, to share with her that she already had what it takes to be a brain builder. Now when I see her, Katheryn tells me how much she loves Vroom tips and how she is better equipped as a parent to support and identify appropriate development milestones for Abby Raye.
Enthusiasm for Vroom throughout the community has continued to grow, and local leaders, businesses and churches have become Vroom partners. At a local collaborative meeting, I gave community leaders the opportunity to try Vroom tips out themselves. Mark Rogers, a local journalist, and Chief Deputy Sheriff Jamie Singley couldn't hold back their laughter as they practice the "Smile and Wink" activity. By taking part in actual Vroom activities, community leaders experienced the actual effect of the Vroom tips versus just listening to the benefits that they offer. After the meeting, these leaders went out and continued to spread the word about the importance of early learning for children.
Vroom has strengthened our community in many ways. Law enforcement personnel share Vroom tips and books with children during security checkpoints. Medical clinics display Vroom posters and books in waiting rooms and the local custard stand gives out information at their drive-through window. Child protective services has mandated that parents who have had their children taken away attend the Vroom Play & Learn groups to increase their knowledge of early literacy to help them regain custody of their children. The local newspaper publishes articles highlighting the importance of Vroom for early development and local radio station invited me on air to emphasize the benefits of Vroom.
Without the support of community and the Vroom initiative, it would have been impossible for me to reach out to the families in Marion County and share strategies to help children learn early. However, with community support, the children entering kindergarten this year in Marion County are much better prepared for success. Helen Keller was right; alone we can do so little, together we can do so much more.
To learn more about how Vroom is innovating Save the Children's Early Steps to School Success program, visit our website.