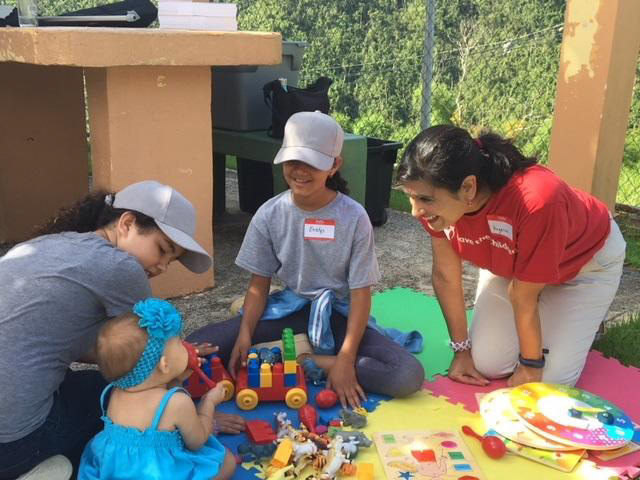 Written by Angelica Cadavid | Photograph by Gary Shaye
When I arrived in Puerto Rico, I didn't know what to expect. Almost a year after Hurricane Maria, I wondered what I would see. Would my mother's beloved island still show the scars of the devastation that roared upon its shores on September 20, 2017? What about the children?
What I saw was heartbreaking and hopeful at the same time. The physical signs of Hurricane Maria were everywhere. I kept telling my non-Puerto Rico based colleagues that the island didn't look like this before the storm. Everywhere were the markers of what were once family homes and local businesses, now in ruins. One girl I spoke with told me the hurricane blew the roof off her home. What was equally traumatic for her family was finding the remnants of other people's lives that the storm had blown into their house, things like shoes and other personal items.
While many of the children and families that I spoke with painted a picture of loss, our conversations also turned hopeful. Communities like Fronton and Mulitas were coming together to support one another, especially the children. An abandoned basketball court is now a beautiful community center. It's a place where children can play in a safe, protected environment, make up for lost school days, and heal from the trauma of loss and fear caused by the storm. One young boy told me he was afraid and angry after the hurricane but now he feels protected after participating in our Journey of Hope program.
Families told me how much the programs meant to them, but until I saw our community activities in action, I had no idea. I wish every Save the Children supporter could see the joy on the children's faces. Even those kids that had started the day a bit sullen were soon laughing and playing.
Almost one year after Hurricane Maria, there is still so much need on the island. It took 10 months for the community of Mariana to get electricity. But Puerto Ricans are resilient and with help and the continued dedication of Save the Children staff, local leaders, parents and supporters – Puerto Rico si se levanta (Puerto Rico will rise up).
To learn more about Save the Children's emergency responses and ongoing recovery work in Puerto Rico, visit our website.
YOUR SUPPORT CAN MAKE THE DIFFERENCE FOR CHILDREN AND FAMILIES IN NEED. MAKE A DONATION TO THE CHILDREN'S EMERGENCY FUND TODAY!