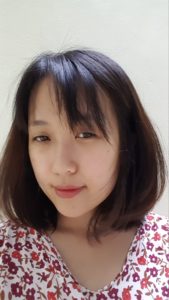 Pham Thu Trang
Communications Assistant
Save the in Vietnam
September 24, 2018
Friendship isn't about who you've known the longest. It's about who has walked into your life, said "I'm here for you," and proved it.
This is exactly how I would describe the friendship between Konrad and his sponsored child, Nguyen. They had only been able to get to know each other through the many letters they sent over a year, until the day they met face-to-face.
After coming all the way from Poland, Konrad next had to endure the long and tiring car journey from Hanoi – the capital of Vietnam – to Thai Nien commune in Lao Cai province, where Nguyen lives high in the mountains. Despite coming such a long distance, Konrad didn't seem to feel exhausted at all. Perhaps the excitement made the way seem shorter.
Konrad arrived at the school where 13-year-old Nguyen is studying, and was greeted warmly by Nguyen's teachers, friends and his father. When being asked to find Nguyen among his classmates, at first it was a challenge for Konrad to find the little boy he had only seen through photos. Over the past year, the little Nguyen had grown into a good looking teenage boy with tanned skin, but his smile remained the same. Konrad recognized him after a few seconds.
Nguyen was a little bit embarrassed at first when they caught each other's eyes. As for Konrad, I felt like this full grown man turned into a shy and clumsy boy when standing in front of his friend, whom he was meeting for the first time. "I know Nguyen is shy because I also feel nervous," said Konrad.
However, the barrier of shyness was broken as soon as they danced and played shuttlecock-kicking, a game in which players use their feet to keep the shuttlecock from touching the ground. Konrad found himself embarrassed again when being asked to dance in Nguyen's classroom, but he overcame his hesitation and danced for everyone! I never thought that he could dance like this! A real dancing machine. He was also pretty good at playing shuttlecock-kicking. Sports really have the power to bring people together!
It's also true that food unites people, bringing us together and bridging gaps. After some time spent playing games, Konrad joined a cooking class and helped Nguyen and his friends make a traditional Vietnamese salad. The salad is made with banana flowers, green papayas, carrots, boiled pork, lean pork paste, crushed peanuts and a special sauce which is made with fish sauce, sugar, lemon or kumquat, chilly and garlic. The class was divided into 3 teams and Konrad was nominated as a judge of their cooking contest. While everyone was focused on the competition, Konrad enjoyed talking with Nguyen as if nobody was around. They talked about their favorite sports – bicycle riding for Konrad and soccer for Nguyen – as well as shared experiences, memories and just had casual conversation about their lives.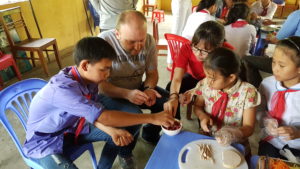 As a teacher, Konrad has a great concern for education, especially for the school where Nguyen is studying. During the visit, the head teacher showed him around the school and provided detailed information about matters that he was concerned about. Konrad was impressed, and asked about the child-centered teaching techniques being used and about the youth club available at the school, all supported by sponsors like him. The youth club is a great place for adolescents to share knowledge and learn about sexual and reproductive health, and other problems faced by teenagers. Konrad was even able to participate in one of the youth club meetings, and was happy for the opportunity to share his viewpoints about the importance of friendship. He made an example of the friendship between him and Nguyen – a friendship without borders.
Konrad is an energetic man but his voice was shaky and barely covering a sob when saying goodbye to his dear sponsored child. A handshake, a hug and a best wish from Nguyen was a priceless farewell gift that warmed his sponsor's heart. "Thank you for visiting me. I hope you are happy and healthy every day," Nguyen said to his sponsor. Konrad promised to come back and I'm really looking forward to that day, when we can make the best memories together again.
Interested in joining our community of sponsors? Click here to learn more.