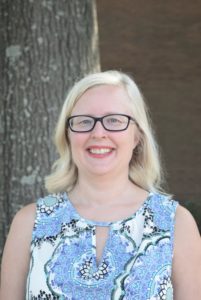 Melissa McCaughan
Sponsorship Communications Specialist
Save the Children U.S. Programs
September 17, 2018
D'Miya is 8 years old and lives in Mississippi. She is entering third grade and participates in the after-school program supported through Save the Children in her community. Once a shy child, she now beams with confidence. Her smile lights up a room and she has blossomed, because of sponsorship.
D'Miya comes from a very low-income area. Jobs are scarce and many people can't afford the basic educational resources, like books or school supplies, needed to support their children's education. D'Miya's grandparents inquired about the after-school program because they felt it could help her be more successful in school. Her basic reading skills were not quite where they needed to be for students her age, and she was having difficulties with writing as well. She also generally wasn't excited about school or her classes, and didn't feel motivated to participate in lessons.
Since entering the program and receiving the additional support outside of school that she needed, D'Miya has made new friends and her test scores in reading have improved. D'Miya's teacher describes her writing as excellent and notes improvement on her literacy assessments too. She is now able to read more books and has the opportunity to use computers in the afterschool program. D'Miya now describes school as "fun!"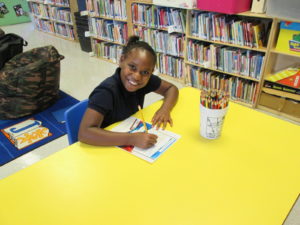 "You get to read in school!" smiles D'Miya. She has a positive attitude now and has become more active in class discussions and activities.
D'Miya also enjoys writing to her sponsor and seeing the pictures that her sponsor draws. "I feel very, very thankful," says D'Miya, in regards to having a sponsor who writes her. She likes having someone to write to that she hasn't met, who can tell her about life outside of her community. It makes her feel good to receive a letter.
D'Miya's sponsor, Laura from the Primrose School, sends her birthday cards and drawings. Laura's young students in the toddler room she teachers in also write special messages to D'Miya. She receives letters from Laura every couple of months, and responds telling her about her newest favorite books. She also loves drawing pictures for her sponsor.
Outside of school, D'Miya enjoys playing on the swing set at the park, swimming, running and riding her bike. Her hero is her daddy who plays with her and shows her how to fix things.
When D'Miya was little, her mother passed away, and although she has great admiration for her father he isn't always around to take care of her. She now lives with her grandmother and grandfather. Without any brothers or sisters, D'Miya can get lonely. However, writing to her sponsor has fostered an emotional connection for her that she would not have had otherwise.
D'Miya's grandmother hopes that D'Miya will "succeed in life to the fullest and have the opportunity to go to the college of her choice."
The sponsorship coordinator at D'Miya's school, Deanna, said, "I believe she will accomplish anything she sets her mind to. She is determined and driven when it comes to completing a task, so she has great potential to do big things. I feel as though her love for helping others will be seen throughout her future in one way or another."
Deanna describes D'Miya as having a bubbly personality and a great sense of humor. "She has opened up more to others rather than staying more to herself. She has grown as an individual, and made great improvements in school," said Deanna.
Long after Save the Children moves out of her community, D'Miya will benefit from the impact it has made in her confidence and her success in school. Likewise, the connection she has formed with her sponsor will benefit her for a lifetime.
Interested in joining our community of sponsors? Click here to learn more.