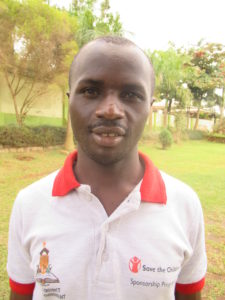 By Sam Labu
Community Sponsorship Officer
Save the Children in Uganda
September 14, 2018
Gerald is a 10-year-old boy from Kakiri sub-county in the Wakiso District of Uganda. He is in 3rd grade and is an active member of his school health club, which was set up through the sponsorship program in his community. The goal of this club is to provide an avenue for children to learn and participate in improving their personal health and hygiene.
In Uganda, school pupils face a number of challenges related to poor hygiene and sanitation. Before Save the Children started working in Gerald's community, children did not have access to safe drinking water at school.
Drinking contaminated water from the nearby wells and harvested rainwater was the order of the day for pupils. This caused many diseases like diarrhea, dysentery, and typhoid which caused students to miss school a lot. "I used to miss school because of diarrhea and stomach aches, I didn't know that it was because of the water we were drinking at school," says Gerald.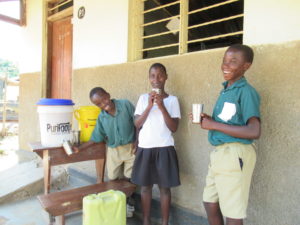 Through Save the Children's Healthy Girls and Boys program, our goal is to improve the health and education status of children to enable them to learn and develop to their full potential. School health clubs were set-up in every school reached by sponsorship to empower the pupils with the knowledge to keep themselves healthy. In Uganda, we've reached over 80 schools with this type of health education program, including mentoring and training for nearly 3,000 girls and boys.
The pupils and their teachers as well were educated on the dangers of drinking unsafe water. Along with that, access to safe drinking water was provided to the schools. For example, sponsorship provided SODIS devices, which stands for solar disinfection of water, and safe water tanks to store boiled drinking water in. The teachers in each of the schools were also trained on how to incorporate health education into the classroom, for example teaching children how to use and maintain the new water tanks. Gerald's school received spouts which use a ceramic water filter – a type of filter which purifies and disinfects water using a layer of silver nitrate.
Gerald, as a member of his school health club, has also learned how to guide the other students in where to access the clean water and encourages them to drink it, to keep themselves hydrated and avoid needing to drink from the dirty water sources. "I always remind my classmates to drink the safe water from the spout because it will help them not fall sick and miss school." says Gerald. He and his fellow club members are also responsible for keeping their school compound and classrooms clean and orderly, as well as maintaining handwashing facilities at school and assisting the younger students in washing their hands.
With access to safe drinking water in the schools, the pupils no longer miss school because of diseases like diarrhea, dysentery, and typhoid. They are healthier and more eager to learn.
"Thanks to Save the Children, I am healthy, I go to school every day and I am working hard to be a lawyer in the future." Gerald said with a hopeful grin.
With support from Save the Children through the school health clubs, Gerald and other pupils know the dangers of drinking unsafe water and are empowered to be great advocates for better sanitation and hygiene practices in the community.
Interested in joining our community of sponsors? Click here to learn more.