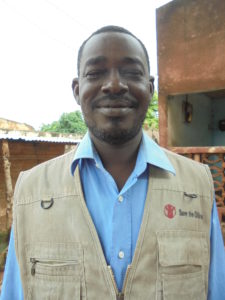 Abdramane Maiga
Community Development Assistant
Save the Children in Mali
August 6, 2018
Natene is an 11-year-old girl living with her parents in the community of Finkolo, in the southeastern part of Mali. She is the youngest amongst her two siblings, and she now happily attends the 6th grade. She enjoys reading and participating in outdoor activities and sports, like racing her bicycle. Natene and her family have been participating in sponsorship programs since 2008.
Before Save the Children came to Finkolo, very young children, usually around ages 3 – 6, whose parents were busy doing daily activities in the fields were often left to fend for themselves during the day. They would take care of themselves, occupying their time, feeding themselves and generally keeping themselves safe. A lucky few were able to stay with the grandparents nearby.
In order to help these very young children, and their parents, Save the Children implements its Early Learners program. Knowing that the emotional, social and physical development of young children has a direct impact on their development as adults, Save Children has found it necessary to invest in the very young to maximize the future well-being of themselves, their families and their community. Natene enrolled in Early Learners when she was just 3 years old.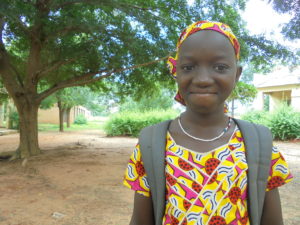 Through these programs, children can learn basic skills to help prepare them for primary school, for example, how to hold a piece of chalk, identify numbers, letters and colors, how to play well with others in groups and how to stay focused in class. Through activities like interactive games, songs, storytelling, social interaction and outdoor play, trained teachers help make sure children grow and thrive.
In these local early learning and development centers, children are supervised and monitored by trained instructors. The goal is to allow children to grow-up while learning in a child-friendly environment. At the early learning centers children can learn how to interact with each other in the classroom setting, and to learn through educational games organized by their instructors. Children also learn good behaviors, for example how to have good personal hygiene and when and how to wash ones hands properly.
Thanks to the education she received at the Early Learners center, by the time Natene enrolled in primary school 3 years later she could easily read and write, and overall seemed brighter. Children like Natene's brothers and sisters, who did not have the chance to benefit from the Early Learners program, encounter great difficulties in doing the same exercise Natene now enjoys and completes with ease.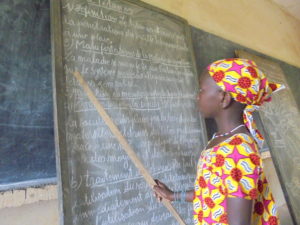 Likewise, parents are able to focus on their daily tasks without fear, knowing their children are somewhere safe.
Issa and Michata, Natene's parents, shared, "We understand the importance of education because of our daughter, Natene, who has benefited from Save the Children's Early Learners program. Thanks to this program, she has been well protected and monitored. She was learning while playing with her peers. In the center, Natene learned the importance of handwashing and personal hygiene. She washes her hands before and after meals and after using latrine."
Siaka, another student's father, commented "In our community, education plays an important role. Parents are increasingly aware of the importance of education in general and of girls in particular nowadays. We noticed a lower school drop-out rate in school. Thanks to Save the Children, schools receive hygiene kits and school supplies to help children to get a quality education and remain healthy."
Natene is happy to share her health and hygiene lessons with her family members too, further widening the impact sponsors have made in Finkolo. Simple lessons like how to wash one's hands help reduce disease and school drop-out rates and likewise increase class attendance and learning abilities as children can learn more when they are in good health.
Interested in joining our community of sponsors? Click here to learn more.