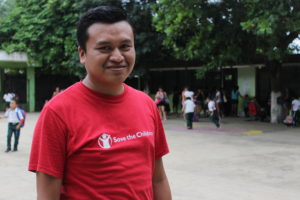 Mario Nah Pool
Community Promoter
Save the Children Mexico
August 13, 2018
Hola! My name is Mario, I am 30 years old and I am a Community Developer in Yucatan – a state in the southern part of Mexico. We are close to an archaeological area that highlights the cultural wealth and indigenous history of this area of the country. At the moment, I live with my parents and brothers, who always have supported me in the different projects and goals I've aspired to.
Since I started to work at Save the Children in June of 2017, when sponsorship first came to Yucatan, knowing my work benefits children from Mayan communities has been my greatest satisfaction. They live in situations of exclusion and poverty and do not always have the tools to succeed.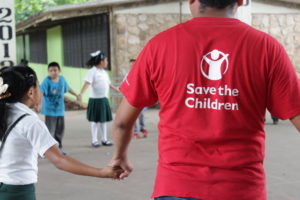 At Save the Children we carry out different actions in schools and communities, not only working with children, but also with the parents, teachers and people in their community. As Community Developer, I promote activities and participation of children through games and art, and work closely with community members and schools to help create a plan for improving the quality of education offered here. The main problems we face are gender inequity and the lack of parent participation in their children's education, which makes the children feel indifferent towards working hard at school.
One of the most rewarding experiences has been to help design and implement summer activities in the community of Temozón. There, children learned how to express themselves through art and painting, group reading activities, theater and games.
It was very exciting to be a part of something new, since it was the first time that a development or non-governmental organization had worked with children from that community. During the summer, children were mainly staying at home and did not have many activities, so being able to spend part of their day playing while learning was an amazing and wonderful thing.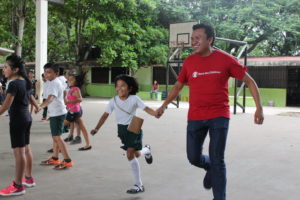 The summer camp had a very positive impact on children, from the first to the last day they were very excited to be there. It was so rewarding to see kids come to the summer sessions, riding their bikes with large smiles on their faces. Using different types of games, we led the children through themes like gender equality, children's rights and the different professional options that exist in the country, which was a very interesting discovery for them, since they did not know most of them. Most adults here work in local trade, as farmers or fishermen. Despite the heat, the boys and girls did not stop singing and dancing with us. They certainly seemed to enjoy every moment!
Every day with Save the Children is an adventure. My contact with the community keeps me very enthusiastic to continue strengthening my commitment to social responsibility. I think of myself as an education endorser to foster children's human rights, and improve their everyday life and conditions.
From me and the children here in Yucatan – we send our greatest thanks!
Interested in joining our community of sponsors? Click here to learn more.