By Sara Neumann; Photo by Ellery Lamm
When you shine a light on where poverty in America has the strongest grip on children's lives, it's most often in our wide open spaces.
From the hills and hollers of Appalachia in the east, to the Deep South, all the way to California's distressed Central Valley and beyond, children are more likely to experience childhood ender events related to poverty.
Rural child poverty1 in the United States is a subject that is rarely discussed in today's national conversation, but given the findings of the new research in Save the Children's 2018 End of Childhood Report – and Index, it should be.
How is Rural Child Poverty in the U.S. Defined?

According to this first-of-its-kind analysis of rural child poverty rates across America, rural child poverty is much more pervasive than one might think.
Poverty affects more than one billion children worldwide, including millions in the U.S. And while most Americans think child poverty is only an urban issue, child poverty rates are higher in rural areas. Nearly 1 in 4 rural children grow up in poverty.
What Percent of Children Live Below the Poverty Line?
In 2016, 23.5% of America's children in rural areas were impoverished as compared to 18.8 % in urban areas. On the county level, between 2012 and 2016, 41 counties in the United States had child poverty rates of 50% or higher, 93 % of which (38 out of 41) were rural.2
6.1 million live in the South; 3.2 million live in the West; 2.7 million live in the Midwest; 2.0 million live in the Northeast
Certain geographic areas of America, including the Mississippi Delta, the Southwest, Central Valley and Appalachia, have the highest rates of persistent child poverty and are mostly rural. The vast majority of poor, rural African American children live in the South, where child poverty rates are historically the highest. Native American children, whose poverty is concentrated in the Southwest and Northern Plains, and Alaskan native children have the second highest rural poverty rate at 39.3%. One-third of rural Hispanic children are poor; their poverty is concentrated in the South and West. Poor rural white children, in comparison, tend to be spread across Appalachia.3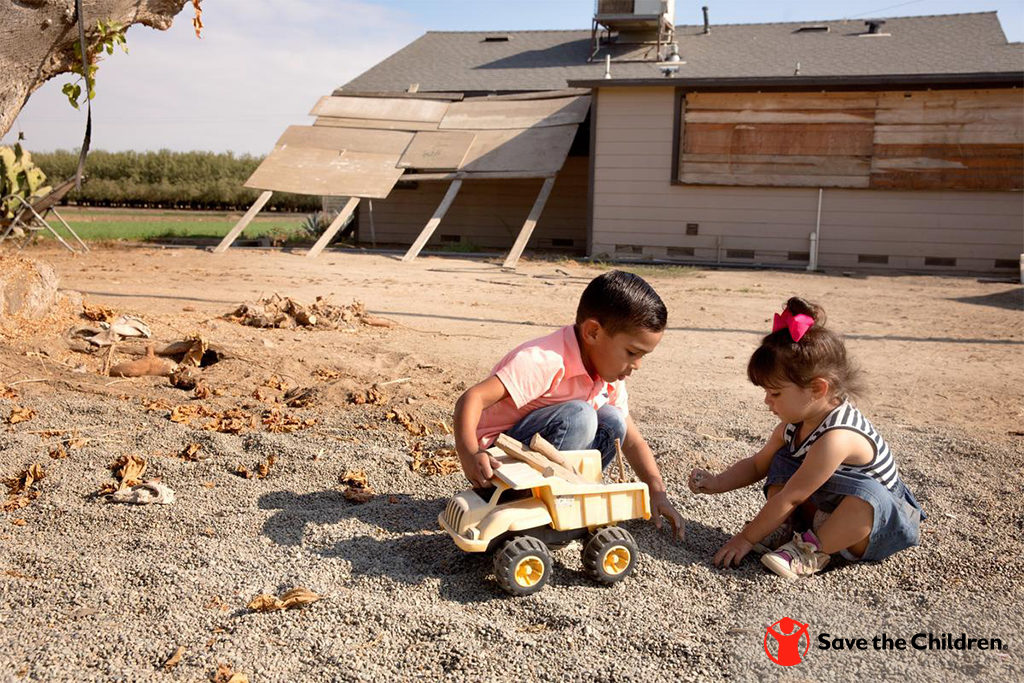 4.9 million are aged 0-5; 4.9 million are 6 to 11; 4.2 million are 12 to 17
Across rural America, children ages 0 to 5 have a poverty rate of 27%. This is compared to 24% of children ages 6 to 11 living in poverty and 20% of children ages 12 to 17. Young children in rural areas also face 1.5 times the rate of deep poverty as their non-rural peers, 13% versus 9%. Deep poverty means a child's family has an income below half of the federal poverty line. This is especially concerning because deep, pervasive poverty often leads to long-lasting developmental and health problems, further perpetuating the cycle.4
8.1 million are children of single mothers; 4.5 million live in married couple families; 2.1 million are children of single fathers
Scarcity of jobs, geographic isolation and lack of transportation often pose greater earnings challenges for rural parents than urban parents.5 Rural parents also tend to have less education and a higher incidence of underemployment, which places their children at higher risk for poverty. In rural America, half of all children living with single mothers are impoverished (51.5%) as compared to 11.9% of rural children in married-couple families. This means that children of single mothers in rural areas are four times as likely to live in poverty as their peers with both parents at home.
890,000 are children with disabilities
Nationally, 29% of disabled children are poor, compared to 19% of non-disabled children. In rural areas, poverty rates among disabled children climb to 35%. In other words, over one-third of disabled children in rural areas are growing up poor.6
The impact of child poverty unfolds over the course of a lifetime
Research has linked child poverty in rural areas to low levels of well-being during both childhood and adulthood, encompassing poor educational, economic, behavioral and health outcomes.
Since 1932, Save the Children has been on the ground providing support to the most isolated and underserved children in rural America. From our earliest days in Appalachia – helping children and families hardest-hit by the Great Depression – to today, our U.S. team goes where others cannot.
To learn more about how Save the Children helps America's hardest-to-reach children, and how you can help children in America, visit us at www.savethechildren.org/usa.
1. In the United States, being in poverty is officially defined as having an income below a federally determined poverty threshold. Poverty thresholds were developed in the 1960s and are adjusted annually to account for inflation. They represent the federal government's estimate of the point below which a family of a given size has cash income insufficient to meet basic needs. The thresholds form the basis for calculating the "incidence of poverty," which is typically reported as a headcount or as a percentage of the population. ↩
2. United States Department of Agriculture Economic Research Service. Rural Poverty & Well-Being. April 19, 2018.↩
3. Farrigan, Tracey. Child Poverty. United States Department of Agriculture Economic Research Service. Accessed April 3, 2018.↩
4. United States Department of Agriculture Economic Research Service. Rural Poverty & Well-Being. April 19, 2018.↩
5. McGranahan, David. Rural Child Poverty Chart Gallery. May 20, 2018. ↩
6. Save the Children's analysis of data from U.S. Census Bureau, American Community Survey, 2016. These estimates were derived from American Fact Finder table B18130.↩