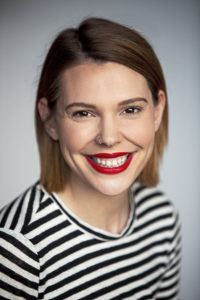 Victoria Zegler
Multimedia Storyteller
Save the Children in Egypt
March 20, 2018
"How does it make you feel to be a representative of your school, Aseel?" I asked.
She froze, hesitant to answer.
Then she admitted that she didn't want to sound "arrogant," so I reassured her, "Confident, Aseel! Not arrogant."
It was at that moment she took a deep breath and let out the most genuine response I could have hoped for.
"As an ambassador, I feel that I have a nice talent," she said. "They chose me from the entire school, they chose me from among 800 students! I cannot believe this!"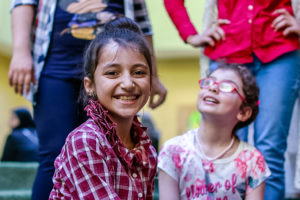 As the war in Syria enters its eighth year,  there are still children who are out of school, and most are up to six years behind in their reading and math skills. This, I cannot believe!
For refugee children, war has put their educations – and therefore their futures – at risk.
Back in October, I was able to visit Save the Children's refugee sponsorship program in Egypt. I witnessed firsthand the impact being made in the lives of children who, at one point, were without an education.
During my visit, I was given the opportunity to meet our four child ambassadors – Aseel, Mohanad, Malak and Karim. Each of these inspiring children expressed their gratitude for having Save the Children in their community school and felt honored to be chosen as a representative among their peers.
I watched plays orchestrated by local Save the Children staff to promote hygiene in a fun and inclusive atmosphere (think big toothbrushes constructed out of cardboard and plastic straws!). I heard the excitement in the children's voices when they talked about attending summer camp and art exhibits. It made me smile knowing that our sponsors are giving vulnerable children the education and support they need to succeed.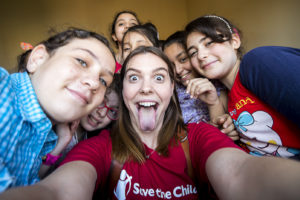 After meeting each of these children and hearing their stories, I couldn't help but notice their sense of self-awareness. All of the incredible support we receive from sponsors like you allows refugee children to thrive in a safe environment, one where they can focus on learning and just being kids again. These children recognize what is happening in the world, even though they may not understand it. They realize that they have been given a second chance, and they know they have to work hard. Because of your generosity, refugee children are able to continue their educations and dare to dream of their futures.
It moved me to see these young children serving as leaders within the community and talking about their hopes for the future. This is what your generosity is doing. You're helping provide the care and support these children desperately need to pursue their dreams.
Thank you for making a positive difference in the lives and futures of refugee children like Aseel.
Within our impact area of Greater Cairo, Save the Children responds to both short-term and long-term needs of vulnerable refugee children and their families by offering child protection, education, health and livelihoods support, counseling and psychological support. Learn more and find out how you can help at SavetheChildren.org/RefugeeSponsorship