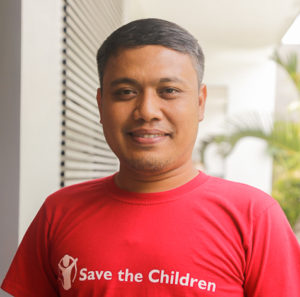 Cheeko Garcia
Media and Communications Officer
Save the Children Philippines
February 9, 2018
Early morning one day in August, we picked up Nadia, a sponsor who has been supporting Ariane and her community for more than a year now, by raising funds with her local karate club back in Italy. Although Nadia came all the way from Italy, I did not see a hint of tiredness on her face. Our two-hour drive to reach Ariane's community was filled with stories between Nadia and Save the Children staff, talking about our many differences, and even more similarities.
When we finally got to our destination, we were greeted by cheerful teachers and a curious group of students. Though the teachers were expecting us, none of the children knew about our visit, except for one – Ariane. Her parents later revealed that she had been very eagerly waiting for this day to happen, when she would finally meet her sponsor.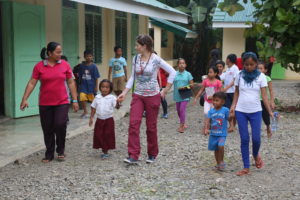 Ariane is 7 years old and is growing up in a secluded, rural village in Sarangani, a province with a 230 kilometer coastline at the southernmost tip of Mindanao island. She is a bit shy, but nonetheless eager to learn in school. Her parents both work as tenant farmers, earning only a minimal wage which is barely enough for their family of five. She is among the many students in her school that Save the Children helps through its sponsorship program.
Though she had received letters from Nadia, and seen photos of her in those letters, it was the first time Ariane had met a foreigner up close, so she was initially a bit hesitant. Nadia warmed her up by showing her photos of the other members of the karate club. Ariane slowly became more comfortable and soon enough, they were smiling and taking photos together.
The school was so excited for Nadia's visit that they prepared a bounty of fresh fruits and other local food, including freshly harvested coconuts. All of us, including Ariane and her family, shared an extravagant meal of locally produced rice, corn, fish, chicken and vegetables.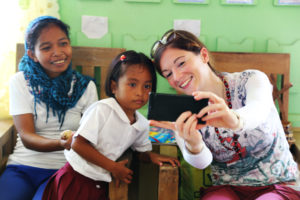 Shortly after that, we went to Ariane's classroom where a story was being read to the students by their teacher. The storybooks provided by Save the Children are written in the local language, making it easier for the pupils to understand the content and allow them to actively participate during the discussions. A big part of sponsorship programs in the Philippines is spreading the use of mother tongue-based multilingual education, meaning teaching in children's' first languages rather than in the national language, Filipino, which is not necessarily spoken by families in these remote areas.
Trying my best to sum up a reflection on this experience, one word kept emerging – inspiration. Inspiration is contagious, and I saw it spread among the people I met through this day. Nadia and the members of her karate club back in Italy were inspired by stories of children who are in need. Nadia's visit inspired Ariane to see more of the world and to fulfil her ambition of becoming a doctor. Ariane's parents got inspired to keep her in school, and I, as a Save the Children staff, saw the connection between the sponsor and the child and it inspired me to reminisce the value of the work we do.
Interested in joining our community of sponsors? Click here to learn more.