Basma* was in her elementary school classroom near Damascus, Syria when the building was hit. This curious 8-year-old is eager to learn, but violence has displaced her family multiple times. This has meant different schools, none as good as the one back home. When another school she attended was hit, 20 students died.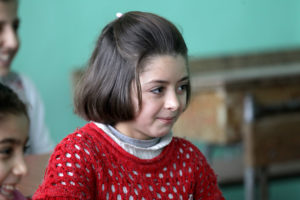 Sadly Basma's experiences and fear do not make her unique. In a new report just released by Save the Children and the Peace Research Institute Oslo, we found that 357 million children around the world live within conflict zones. That's more children than the entire US population living within 31 miles of conflict. Many of these kids have never lived in peace.
In Jordan's Za'atari refugee camp last year, I met boys and girls who, like Basma, don't get to attend the schools back home their parents dreamed of sending them to. Save the Children is running early education programs in the camp so that these children, forced from their schools, are able to build the crucial foundations of their educations.
If a kid's childhood is impacted by conflict, what will her future be? Trends show that conflicts are lasting longer. For example, Afghanistan has had at least 17 years of conflict and conflict has afflicted Iraq for the better part of 15 years. In the most dangerous countries for children in conflict, fighting can take away entire childhoods.
All aspects of a child's life can be impacted when she lives in a conflict zone. More mothers are dying in labor at home because they cannot access health facilities, or are afraid to because hospitals are commonly targeted in modern fighting. Children who do survive birth in conflict zones may not have access to healthcare as they grow up for the same reasons. Diseases prevented by vaccinations in peace-time, like polio and diphtheria, take hold, compounding the threats children face. A child's mental health can be impacted into adulthood due to the trauma of violence.
Conflict is more dangerous for children now than at any time in the last 20 years, and attacks on schools are the "new normal." Today, 27 million kids worldwide are out of school due to conflict. Some have never been inside a classroom. The interruption of education has a long-term impact on children's futures and the socio-economic recovery of a country.
All children deserve a healthy start, the opportunity to learn and protection from harm, but conflict can rob all of this from a child. It is the responsibility of the international community to protect children from the horrors of war. We must commit to preventing children being put at risk, upholding international laws and standards, holding violators to account and rebuilding shattered lives.
Protecting children affected by conflict is Save the Children's founding mission, and nearly 100 years later, it remains our top priority. Our founder Eglantyne Jebb said, "Humanity owes the child the best it has to give." It is difficult to dream about the future when, like Basma, all you've known is war. We owe children childhoods free of conflict.