Anisa Naimi
School Health and Nutrition Officer
Save the Children in Afghanistan
October 3, 2017
In Afghanistan, especially in rural areas, people are suffering from the lack of a consistent energy source for heating and cooking in their homes. To overcome this problem many families still prefer traditional ways of supplying energy. This means that often children can be seen walking the streets to collect animal wastes. Dung, or called "sargen" in Dari, the local language, can then be dried and used as fuel or even building material. Unfortunately, the lack of knowledge on protecting ones health and hygiene was causing children to get sick after collecting sargen.
9-year-old Amina is in 3rd grade at the girls' school in her village, in Faryab Province. She lives with her parents and is third eldest among her 3 sisters and 2 brothers. She is an active student, but a few months back she suddenly was facing some difficulties, enduring a pain in her stomach followed by her health quickly deteriorating. She tried to attend school regularly but her poor health conditions did not allow her to actively participate in the class work and recreational activities at school.
Her mother Gulbadam shared, "Our family worried about her health. Her father gave her a pain killer medicine, but the pain continued because she felt terrible cramps in her stomach. She preferred to stay at home and was disappointed and sad."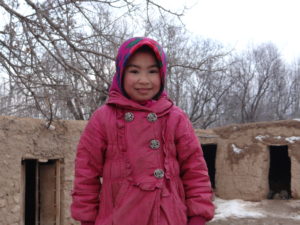 Amina told us proudly, "Save the Children staff came to my school and conducted deworming campaigns. They told teachers and students about worm infestations which is very common in school-aged children in this community, because every day children collect sargen and the germs enter our stomachs and makes us sick."
She added, showing what she had learned on the topic, "Save the Children staff told us that if these worms grow they would make children much weaker and sick. It is always better to take dewormers to kill worms and to wash our hands with soap. They gave deworming tablets to all the children in school and I took the tablets too. The next day it kicked out many worms from my stomach and I felt better."
After being inspired by her new knowledge of what had made her sick, Amina become a member of the child-focused health education group in her village, and actively participates in the sessions. She mentioned, "Before I never knew to wash my hands with soap after collecting sargen, and that [washing with] only water does not remove the microbes and causes stomach worms. Thank you Save the Children," she added shyly.
The child-focused health groups are sponsorship supported programs that provide a forum for girls and boys to meet once a week in the homes of volunteers or in community spaces. At these meetings, health skills such as how to maintain good hygiene and nutrition and prevent diseases are key topics. Children learn through participating in public campaigns to spread health messages through their community, as well as in meeting sessions learn through activities such as drawing, storytelling, roleplaying and other child-friendly activities that strengthen important health skills, like proper handwashing.
Amina explained, "Now our school is closed for winter holidays but there is a [child's health] group in our neighbors' house. I regularly attend each session because I enjoy learning many new things, I learned when to wash my hands with soap and why I should do so. Before this I rarely used soap but I learned if I do not use soap I will face stomach worms which is very scary and painful."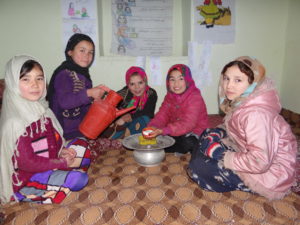 As a part of the child-focused health groups, child participants are asked to share what they have learned in each session with at least 3 family members or relatives. Community elders, parents and school management are also invited to some of the events. In this way, not only do the children benefit but the impact of our programs are felt throughout the entire community.
Amina's mother says, "Children learn best when they are healthy. Thanks to Save the Children for implementing very helpful and useful programs. Now I encourage my children to always wash their hands with soap after participating in deworming awareness raising and deworming tablets distribution campaigns."
Amina's mother also says, "Amina regularly attends school and is much more active and healthy than before. I am really happy and appreciate Save the Children for its efforts for our school."
Interested in joining our community of sponsors? Click here to learn more.